List of Emperors of Germany (Quebec Independence)
Talk

0
Share
Ad blocker interference detected!
Wikia is a free-to-use site that makes money from advertising. We have a modified experience for viewers using ad blockers

Wikia is not accessible if you've made further modifications. Remove the custom ad blocker rule(s) and the page will load as expected.
Emperor of Germany
Monarchy

Coat of Arms

---

Incumbent:


Georg Friedrich




---

Style:
His Imperial and Royal Majesty
Heir apparent:
Prince Carl Friedrich
First monarch:
Wilhelm I
Formation:
January 18, 1871
Reigning house:
Hohenzollern

---
The Emperor of Germany is the official head of state and once the absolute hereditary ruler of Germany, beginning with the crowning of Wilhelm I following the Franco-Prussian War of 1870.
History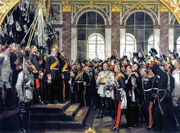 Following the German Empire's victory in
World War I
, the power of the monarchy seemed secure. However, the onset of the Great Depression and various extremist movements resulted in the monarchy transferring more power to the elected Parliament. When
France
took over Germany in
World War II
, Emperor Wilhelm III fled Germany, with the French abolishing the monarchy and dismantling the empire. Upon Germany's liberation, the German emperors became counselors for the
South German
government. Upon Germany's reunification in 2003, the emperor was no longer titular, with Emperor Georg Friedrich becoming the head of state of Germany. However, the emperor no longer has any real power, with Germany now being a constitutional monarchy.
List of Emperors
| | | | | |
| --- | --- | --- | --- | --- |
| Ruler | Image | Dynasty | Reign Began | Reign Ended |
| Wilhelm I | | Hohenzollern | January 18, 1871 | March 9, 1888 |
| Friedrich III | | Hohenzollern | March 9, 1888 | June 15, 1888 |
| Wilhelm II | | Hohenzollern | June 15, 1888 | May 11, 1935 |
| Wilhelm III | | Hohenzollern | May 11, 1935 | July 20, 1951 |
| Louis Ferdinand | | Hohenzollern | July 20, 1951 | September 26, 1994 |
| Georg Friedrich | | Hohenzollern | September 26, 1994 | Present Day |