The following Down a Different Path page is under construction.

Please do not edit or alter this article in any way while this template is active. All unauthorized edits may be reverted on the admin's discretion. Propose any changes to the talk page.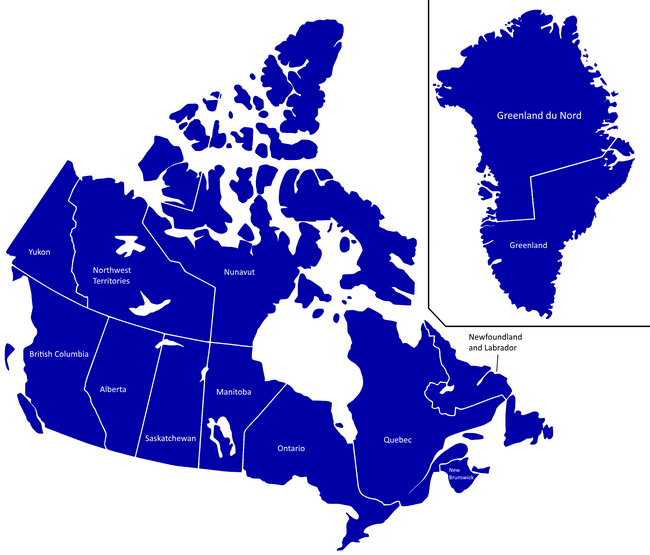 This is a list of the 9 provinces and 4 territories of Canada in 2015.
States
| Province Name | Flag | Postal Abbreviation | Population | Capital | Largest City |
| --- | --- | --- | --- | --- | --- |
| Quebec | | QC | 8,214,700 | Quebec City | Montreal |
| New Brunswick | | NB | 753,914 | Fredericton | Saint John |
| Newfoundland and Labrador | | NL | 514,536 | St. John's | St. John's |
| Ontario | | ON | 13,550,900 | Toronto | Toronto |
| Manitoba | | MB | 1,208,268 | Winnipeg | Winnipeg |
| Saskatchewan | | SK | 1,033,381 | Regina | Saskatoon |
| Alberta | | AB | 3,645,257 | Edmonton | Calgary |
| British Columbia | | BC | 4,400,057 | Victoria | Vancouver |
| Yukon (Territory) | | YT | 33,897 | Whitehorse | Whitehorse |
| Northwest Territories | | NT | 41,462 | Yellowknife | Yellowknife |
| Nunavut (Territory) | | NU | 31,906 | Iqaluit | Iqaluit |
| Greenland | | GL | 38,639 | Nuuk | Nuuk |
| Greenland du Nord (Territory) | | GN | 17,498 | Uummannaq | Ilulissat |