List of British Monarchs (Alternate Imperialism)
Talk

0
Share
Ad blocker interference detected!
Wikia is a free-to-use site that makes money from advertising. We have a modified experience for viewers using ad blockers

Wikia is not accessible if you've made further modifications. Remove the custom ad blocker rule(s) and the page will load as expected.
| | |
| --- | --- |
| | The following article is a part of the Alternate Imperialism timeline. Please do not edit or alter this article in any way while this template is active. All unauthorized edits may be reverted on the admin's discretion. Propose any changes to the talk page. |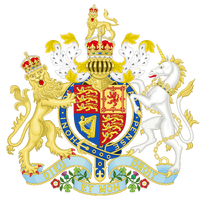 The British Royal lineage was first formed by Constantine I in 411 AD with the formation of the Kingdom of Britannia. The lineage continues with the nation of Great Britain, first came into being on 1 January 1499 with the finalizing of the Treaty of Londinium, uniting the three kingdoms of Britannia, Scotland, and Man. The Ruler of Britannia has since been known as the king of the Kingdom of Britannia, Scotland, and Man, ruling the entirety of the British Isles, her subjects, and her territories.
House of Constantine
Name
Portrait
Birth
Reign
Death

Constantine I
FLAVIVS CLAUDIVS CONSTANTINVS

?


411 AD
-
2 September 421 AD

2 September 421 AD
Natural Causes

Maxentius I
CONSTANTINVS PACIS MAXENTIVUS
396 AD
Eboracum
2 September 421 AD
-
15 October 437 AD

15 October 433 AD
Assassinated by Valentinian

Valentinian I


VALENTINIANVS CONSTANTINVS PLACIDIVS

2 July 419
Londinium

17 October 437 AD
-
16 March 465 AD

16 March 465
Natural Causes
Age 51
Constantine II


CONSTANTINVS VALENTINIANVS AVGVSTVS

1 July 435
Londinium

17 March 465 AD
-
9 September 480 AD

9 September 480 AD
Natural Causes
Age 45
Julian I


CONSTANTINVS IVLIANVS VALENTINIANVS

1 July 452

10 September 480 AD
-
9 December 520 AD

9 December 521 AD
Natural Causes
Age 68
Valentinian II


VALENTINIANVS CONSTANTINVS FAVSTVS

3 August 472

10 September 520 AD
-
13 April 527 AD

13 April 527 AD
Natural Causes
Age 55
Valentinian III


VALENTINIANVS CONSTANTINVS IVLIVS FAVSTVS

25 November 504

13 April 527 AD
-
30 October 548

30 October 548 AD
Natural Causes
Age 44
House of Aurelius
Name
Portrait
Birth
Reign
Death

Gaius I
GAIVS AVRELIVS CONSTANTINVS

4 March 512
Portchester

27 February 551 AD
-
15 December 557 AD

15 December 557 AD
Natural Causes

Maxentius II
MAXENTIVS GAIVS AVRELIVS CONSTANTINVS
533 AD

21 December 533 AD
-
15 October 535 AD

Aurelius I
AVRELIVS MAXENTIVS SENECA
21 December 533 AD
-
15 October 535 AD

House of Claudia
Name
Portrait
Birth
Reign
Death
Lucius I
TIBERIVS CLAVDIVS BRITANNICVS LVCIVS
Silius I
BRITANNICVS CLAVDIVS SILIVS