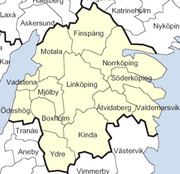 Linköping County (Swedish: Linköpings län) is a county in Sweden. It has almost 430,000 inhabitants and it is 10 562 km2. The capital is Linköping, and another important city is Norrköping.
Linköping County is a constituency in the elections to the house of commoners.
Elisabeth Nilsson is governor of Linköping County.