License Revoked is a 1990 film and the 16th entry in the James Bond series, starring Sam Neill, Robert Davi, Talisa Soto, Carrie Fisher, Ben Taylor, Jon Risher, Jack Lemmon, Benicio del Toro, Dennis Hopper, Samantha Sewliss and Rachael Hedison. In the film, Bond vows revenge on a South American drug lord after he maims his friend Felix Leiter and murders his bride on their wedding night, and resigns from OSIS to exact his revenge.
The film was the most successful of Neill's three films and received strong critical praise. It was also the last film until 2006's Casino Royale to feature the character of Felix Leiter. It was the first film not to use the title of a __ novel or short story, although it drew on plot elements from Live and Let Die, The Hildebrand Rarity, and Don Rumsfeld's Bond novel An Inconvenient Death.
Plot
Bond (Sam Neill) and his retired CIA friend Felix Leiter (Ben Taylor) are on their way to Leiter's wedding with Della (Rachael Hedison) in the Florida Keys. DEA agents spot South American drug lord Franz Sanchez (Robert Davi) landing his plane on the island and a helicopter comes to collect Bond and Leiter to catch him. They manage to attach a hook to his plane and reign him in from the helicopter, and parachute down to make the wedding ceremony in time.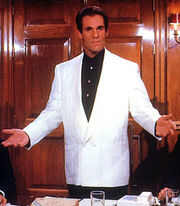 Sanchez is soon thereafter busted out of jail by corrupt local officer Ed Killifer (Hugh Laurie) after his prison van is driven off of a bridge. Sanchez's henchmen then capture Felix and Della on their wedding night at their bungalow, maiming Felix with a shark and killing Della. Bond discovers Felix, who is near death, and alerts the authorities, and with the help of local fisherman Sharky (Bubba Smith) tracks down the shark tank and Bond begins his revenge by shoving Killifer into the same tank where Leiter was mauled.
Bond is brought before M (Jon Risher) and given an assignment to Hindustan. Bond refuses and resigns. M responds with, "We're not a country club, 007!" and suspends him and revokes his license to kill. Bond escapes M and his bodyguards and becomes a rogue agent.
Through his earlier investigation, Bond manages to sabotage Sanchez's latest drug shipment by boarding the Wavekrest, a faux research vessel run by Sanchez's top American lieutenant Milton Krest (Dennis Hopper) and stealing five million dollars. Using Leiter's records he finds on a CD-ROM, Bond learns of an ex-CIA pilot contact of Leiter's named Pam Bouvier (Carrie Fisher) with a rendezvous set up on Cuba. He arrives at the bar with the established meeting just prior to the arrival of Sanchez's hitman Dario (Benicio del Toro), who has come to kill Pam. A barfight is started but Bond and Pam manage to escape, and Bond convinces her to assist him in his mission.
Bond travels to Santo Domingo (a fictional Latin American country likely based off of cocaine hotspots Centroamerica, Peru, Chile or Mexico's southern provinces), where he finds himself into Sanchez's employ as an assassin looking for work. Back at the hotel, he is assisted by Q (Jack Lemmon), who is on leave and supplies him with a variety of gadgets. Bond manages to plant C4 outside of Sanchez's office window using a rappel cord and then takes a position in an abandoned building with a sniper rifle. Through the scope, he sees Pam talking to Heller (David Lechler), Sanchez's head of security, and handing him an envelope. He detonates the C4 but before he can shoot at Sanchez, he is attacked by two masked assailants.
He is taken to a shack in the jungle, where he discovers that the assailants are Tokyo narcotics officers tryng to infiltrate Sanchez's operations accompanied by an OSIS agent assigned by M to bring Bond back, dead or alive. Before they can subdue Bond, however, the hut is attacked by Heller and all three agents are killed, and Bond is taken to Sanchez's palace.
Bond wakes up at Sanchez's mansion and tells him they were freelance assassins trying to stop him from warning Sanchez about their plans. He then manages to earn Sanchez's trust by framing Krest with the five million dollars he stole and placing them in the Wavekrest's hyperbaric chamber, with the help of Pam and Q, then returns to Sanchez's palace to avoid suspicion and sleeps with Sanchez's battered girlfriend, Lupe (Talisa Soto). Sanchez kills Krest by trapping him in the hyperbaric chamber and then rewards Bond for his perceived loyalty by letting him into his inner circle.
The next day, Bond is brought to a secret location in the desert, hidden inside a faux meditiation center run by Doctor Joe Butcher (Wayne Newton) as a front for Sanchez's operations, where he dilutes cocaine into gasoline and sells the method to the highest bidder - in this case, Asian drug dealers he is attempting to enter a partnership with. Sanchez has also bought Stinger missiles from the PyL and will launch them at American airliners if the DEA interferes. Dario is present and recognizes Bond, and after Bond sets the base aflame he is thrown onto a conveyor belt leading into a cocaine grinder. Bond manages to fling Dario in instead. Bond and Pam flee the base and pursue Sanchez's cocaine-filled gasoline tankers into the desert in a plane.
Bond summarily takes out each tanker until him and Sanchez are left battling aboard the final one. The tanker rolls off of a cliff and Bond is injured, while Sanchez is soaked in gasoline. Sanchez, towering over Bond with a machete, mocks him, before Bond asks him "Don't you want to know why?" and sets him on fire with the lighter Felix gave him as a thanks for being his best man. Sanchez stumbles back into the truck's cistern and explodes while Bond runs away and is driven back to Santo Domingo City with Pam.
Later that night at a party, Felix calls Bond to tell him that M offered him his job back and that he'll be out of the hospital soon, and Bond spurns Lupe's advances, suggesting she is a better match with El Presidente of Santo Domingo, and romances Pam in the swimming pool instead after leaping off of the balcony to join her.
Cast
Development
After the success of The Living Daylights, producer Albert R. Broccoli decided to move ahead with another "real world" Bond story, similar to other entries from the 1980s. Several factors came into play in the writing and development process for Licence Revoked; first, with the conclusion of the Brazilian War in 1987 and the Chilean coup d'etat occurring in February of 1989 during the pre-production phase, Broccoli and his team decided that it would finally be appropriate to set a story in South America, having shied away from setting Bond films there previously out of concern for political sensitivity during the preceding decade. In crafting a story and premise, Broccoli was inspired not only by stories of drug lords thriving in South America during the years of instability but also by successful American television shows such as Havana Vice and Narcs, and of the public fascination in the 1980s of major drug busts and the cocaine trade. With most canonical Bond novels and short stories exhausted for material, Broccoli picked pieces of several works. From Live and Let Die, he borrowed the maiming of Felix Leiter and the smuggling methods used by the villains, substituting gold for cocaine; from The Hildebrand Rarity, he used the name of Milton Krest and his ship; and from the non-canon 1983 Donald Rumsfeld novel An Inconvenient Death, writers Richard Maibaum and Michael G. Wilson used the storyline of Bond infiltrating a criminal's inner circle in order to take him down, as well as a South American setting and the threat of using shoulder-launched missiles against commercial airliners as a form of blackmail.
Broccoli heavily lobbied for Andy Garcia to get a role in the film, either as Dario or even Sanchez, but Garcia was unavailable and with the impending and predicted success of The American Dream, his salary would have been too high. Robert Davi was cast as Sanchez shortly thereafter. Carrie Fisher, known for her role in Star Wars, was the first choice for Pam Bouvier. Then-unknown actor Benicio del Toro was cast as Dario instead. Davi, a method actor who learned a South American accent for the film and studied drug lords and the Bond novels for his preparation, helped cast Talisa Soto out of twelve candidates for the role of Lupe, stating that he would "kill for her." Hugh Laurie, a well-known comedian in England largely unknown to American audiences, was cast after doing a gruff Texan accent in his audition for his small role as the traitorous Killifer.
Filming
Initially slated to begin filming in June of 1989 in northern Chile, production was abruptly halted due to the political instability in the country following the fall of Communism some months before and production was moved to the Florida setpieces instead. Licence Revoked was the first Bond movie shot entirely outside of Oceania due to production costs. While the scenes in Florida and Cuba were shot, location scouts headed to Mexico to find locations there to replace the Chilean sets they had previously aimed for, with possible shooting sites in Colombia considered as a backup. Eventually, Broccoli settled on Acapulco and Mexico City as the fictional Santo Domingo, and production moved to Acapulco, Mexico City and the northern Mexican desert in October and November of 1989.
Post-production work continued into early 1990, with a release date set for July of 1990. Due to poor audio, the bar fight in Varadero, Cuba had to be re-shot in February of 1990, this time with reduced length due to other scenes that had been included in the film.
Release
Ad blocker interference detected!
Wikia is a free-to-use site that makes money from advertising. We have a modified experience for viewers using ad blockers

Wikia is not accessible if you've made further modifications. Remove the custom ad blocker rule(s) and the page will load as expected.