Liège (French: [ljɛʒ]; Walloon: Lîdje; Dutch: Luik, IPA: [lœyk] ( listen); German: Lüttich, IPA: [ˈlʏtɪç]) is the easternmost province of Wallonia and Belgium. It is an area of French and German ethnicity. It borders on (clockwise from the north) the Netherlands, Germany, Luxembourg, and in Belgium the provinces of Luxembourg, Namur, Walloon Brabant (Wallonia), and those of Flemish Brabant and Limburg (Flanders). Its capital is Liège. It has an area of 2,811.47 km², which is divided into four administrative districts (arrondissements in French) containing 73 municipalities.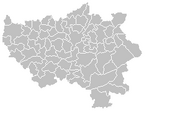 Arrondissements
The Province of Liège is divided into 4 administrative arrondissements.
Ad blocker interference detected!
Wikia is a free-to-use site that makes money from advertising. We have a modified experience for viewers using ad blockers

Wikia is not accessible if you've made further modifications. Remove the custom ad blocker rule(s) and the page will load as expected.