Level-5

Founded
1998
Headquarters

Fukuoka

,

Japan

Industry
Developer
Employment
200
Level-5 is a Japanese video game developer. They are best known for a variety of games published under the Enix brand, especially the more recent Dragon Quest games.
History
Level-5 was founded in October 1998 by Akihiro Hino after he departed from the now defunct Japanese developer Riverhillsoft. Hino did not believe that his fledgling studio could not exist independently, so he began making games to be published by Enix.
One of Level-5's first games, the RPG Dark Cloud for the Nintendo 64, was a critical success. This convinced Enix to commission the next Dragon Quest game, the eighth in the main series, from them. After the game was completed in 2004, Enix made a deal with Level-5 to publish all of their future games.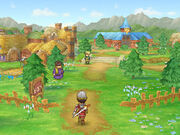 Since then, Level-5 has essentially been the muscle behind Enix, developing another Dragon Quest game along with several new series, such as Professor Layton and Inazuma Eleven for the Nitro and White Knight Chronicles for the Pluto and Revolution.