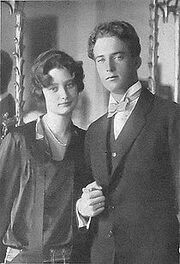 Leopold III (French: Léopold III, Dutch: Leopolds III, German: Leopold III) was King of the Belgians.
He was born on 3 November 1901 in Brussels, Belgium, son of Prince Albert of Belgium (later King Albert I of the Belgians) and his wife Duchess Elizabeth in Bavaria. He became King of the Belgians upon the death of his father on 17 February 1934, and reigned for the rest of his life. He died on 25 September 1983 in Woluwe-Saint-Lambert, Belgium.
He married, firstly, on 4 November 1926 to the Swedish Countess Astrid Bernadotte af Wisborg (1905-1935), who died in a car accident, a daughter of the Swedish Count Carl Bernadotte af Wisborg and Princess Ingeborg of Denmark and Norway. Her paternal grandparents were the Swedish prime minister, Count Oscar Bernadotte af Wisborg and Princess Sophia of Nassau. In his first marriage, King Leopold III had the following children:
Josephina Charlotte (1927-2005)
Baldwin (1930-1993), who succeeded his father as King Baldwin I of the Belgians
Albert (born 1934), who is the current King Albert II of the Belgians
King Leopold III married, secondly, on 11 September 1941 to Lilian Baels (1916-2002), daughter of Henri Baels and Anne Marie de Visscher, having the following issue:
Alexander (born 1942)
Mary Christina (born 1951)
Mary Esmeralda (born 1956)
Ad blocker interference detected!
Wikia is a free-to-use site that makes money from advertising. We have a modified experience for viewers using ad blockers

Wikia is not accessible if you've made further modifications. Remove the custom ad blocker rule(s) and the page will load as expected.