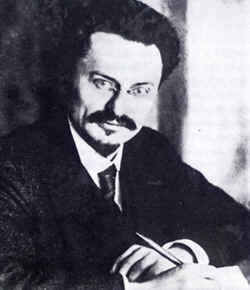 Lev Davidovich Trotsky was born on November 7th (
O.S.
26 October) 1879 into a farming family who lived in Yanovka in
Kherson province
in the Russian empire's region of New Russia, which is OTL's modern day southern Ukraine. Trotsky lived as Leiba Bronstein until the age of 23 when he adopted his renowned pseudonym. His family is of Jewish origin and his parents where quite wealthy (something he was embarrassed about being a Marxist).
Early life 1879-1890
Leiba Bronstein lived at his parent's farm for the early years of his life, his father David Bronstein being one of the most dynamic farmers in the area, and his farm located a few miles outside of Yanovka which is located on the edge of the Jewish agricultural colony known as Gromokleya in Kherson province's Yelizavetgrad district. While his father was a fairly well-off farmer he was illiterate and used his children to write down the farm's financial accounting records; but slowly yet surely David went from living in a mud hut on the farm land to a house made of brick with a croquet field and his own mill on the farm to grind his grain too.
When Leiba was aged 6 years old, Leiba started going to school, but rather than one of the officially subsidized schools which taught Russian (there were none in Gromokleya); Lev went to a traditional Jewish Cheder where his sole teacher Mr Schuler taught Leiba Russian, arithmetic and the old testament in the original Hebrew. While attending the Cheder, Leiba lived at his aunt Rakhil's house because Leiba's parents thought 2 miles was too much to walk daily into the village.
Leiba didn't like how the labouring peasants where treated by the farm owners like his father in Yanovka, and Leiba's older cousin Moshe Shpentser encouraged young Leiba to critically think about his environment and Lev pitied the labourers living in poverty. Sowing the seeds for his future ideologies.
As Leiba grew a little older, he was given more freedom at Yanovka and he loved to wander into the farm workshop. This was the domain of the remarkable Ivan Greben, his father's mechanic. He was a jack of all trades and a master of most. Greban was the Bronstein farm's most valued employee and when he was called up for military service David Bronstein paid a bribe to secure his exemption as the farm's mill required his regular expertise. Leiba's friendship with Ivan Greben reinforced his fluency in the Russo-Ukrainian dialect and taught Leiba some technical skills. Trotsky remembered his as the embodiment of the virtues of the working man. To sum up his early years were peaceful, protected and fulfilling.
David Bronstein was determined that his children were going to grow up without his education disadvantage. As the Bronsteins were not devout Jews, they had little qualms about sending Lev to a Christian school. David chose St Paul's Realschule in Uspenski street in Odessa. He would of preferred the grammar school (gimnazia), which was the city's finest educational institution but Leiba was a casualty of the quota system applied to Jews since 1887. The authorities were nervous about producing a large number of highly educated Jewish young men. Ministers were not acting only out of religious prejudice. They also worried that Russians and others in general might resent losing places at favoured schools. St. Paul's was the next best choice and was still a very good school; arrangements were made for Leiba to live with his cousin Moshe Shpentser and his wife Fanni as a paying lodger. The day of departure was momentous for Yanovka. For Leiba, the trip of over two hundred miles to Odessa at the age of nine was like a journey across an unknown ocean. Leiba was very upset about leaving his family to go and attend school, and the journey started out by horse and cart to the rail station at Novy Bug, then by train to Nikolaev and then by ship (the SS Potemkin) to Odessa.
Schooling at Realscule 1890-1895
Leiba lived at his cousin's apartment on Pokrovski lane and Moshe & Fanni would be his informal guardians in the city for the next 5 years while he was at Realschule. Moshe's elderly mother also lived in the apartment with Leiba, Moshe and Fanni too; as well as Fanni & Moshe's baby daughter Vera, who was just three weeks old when Leiba moved in. Vera would later grow up to become famous poet, Vera Inber. They had a servant called Dasha, who had Leiba as her confidant; but eventually she was replaced by Sonya, who Leiba helped teach to read & write. A wet nurse was hired for little Vera too, who also came from Zhytomyr/Zhitomir like Sonya and on Sonya's recommendation too. Moshe and Fanni set about rubbing off the rural habits of Leiba, teaching him good manners and setting him a bedtime of 9pm rather than going to bed when he wanted to. The Bronstein insistence on hard work and reliability were added to the Shpentser requirements of urbanity and politeness, and this would help shape him into his adult self. Living in a cosmopolitan city like Odessa helped Leiba understand that different people had their own customs and practices.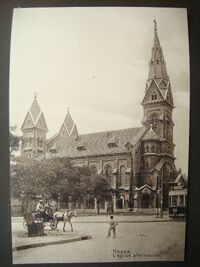 The
school
was the foundation of the city's German community and had a Lutheran church attached to it too; but by the time Leiba joined, German boys from Odessa and the surrounding region constituted to around 40% of the pupils at the school, which was down to a growing reputation for high quality teaching that boys of diverse national & religious backgrounds applied for admission. The big school, city and parental ambitions made Leiba a bit apprehensive about joining the school, but he was pleased at the same time. He had to start Realschule in the preparatory class as Leiba's village schooling left him with lots of catching up to do, but soon Leiba became a star pupil, regularly getting top marks in his exams.
Leiba's Odessa home life was a happy one, Moshe was a lively man interested in ideas and was good with children. Early in life though, Moshe fell foul of the authorities and he was barred from entering university education. His supposed offence remains a mystery by Jews of independent mind were disliked by the governing elite, who didn't want to create a large amount of highly intelligent Jews as it could prove a threat to the powers that be. Moshe took a while to recover from this setback but eventually ended up translating Greek tragedies among things. He married Fanni who was the principal at a state school for Jewish girls in Odessa and it was her salary which kept the couple afloat. Moshe changed careers a few times to be able to provide more for his wife, dabbling in journalism, producing stationary and then eventually publishing. Shpentser was to become one of the leading publishers in the southern Russian empire eventually, but this was after Leiba moved out. However while Moshe was starting out, young Leiba would often help out and became fascinated with the publishing equipment and world, becoming very familiar with type, makeup, layout, printing, paging and binding; and proof reading becoming one of his favourite pastimes. Leiba was very bookish.
While at St. Paul's Realschule he learned mathematics, German, physics, science, history, geography, Russian literature, religious studies, French and more. Leiba ended up getting suspended from school for a short period, after getting the blame for a group of students making a "howling sound" at the French teacher as he left the room after he gave a student a unfair low mark. The French teacher returned to the room with the director and the class prefect, who rounded up the group of boys thought to be responsible for the incident. This group did not include Leiba who was allowed home on the day of the incident, but then Leiba found out the next day the group had unjustly shopped him to the authorities claiming he was the instigator of the rebellion, when in fact he joined late on in the proceedings. Anyway the school council looked at the matter and decided to suspend him after a meeting with his guardians Moshe & Fanni. Leiba feared the worse but the Shpentsers consoled him and his father David Bronstein was quite indifferent to the news, partially admiring his son refusal to become a teacher's pet and proud Leiba had stuck up for himself. Eventually Leiba returned to the third grade after his suspension and continued through to the end of the sixth grade, which at the end of the sixth normally saw St. Paul's releasing its boys and Leiba went to study at the Realschule in Nikolaev for the completion of his secondary education.
Schooling in Nikolaev and birth of his revolutionary ideas 1895-18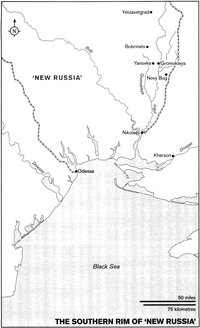 Leiba moved to
Mykolaiv/Nikolaev
in the autumn of 1985 a few weeks before his sixteenth birthday.
Ad blocker interference detected!
Wikia is a free-to-use site that makes money from advertising. We have a modified experience for viewers using ad blockers

Wikia is not accessible if you've made further modifications. Remove the custom ad blocker rule(s) and the page will load as expected.