At 5:12 A.M., April 18, 1989, an earthquake measuring 7.8 on the Richter scale struck San Francisco, California, causing nearly 6 billion dollars in damages and killing nearly 25,000 people in the city alone.
It all started on the peaceful morning of April 12, 1989. People were sleeping peacefully and the city of San Francisco was quiet, but that all changed at 5:12 A.M. All of a sudden, the ground beneath the city violently shook. Buildings in downtown swayed, windows shattered, merchandise on shelves fall to the floor. At approximately 5:13 A.M., the dome of City Hall began to collapse. The downtown area began to fall apart starting at around 5:14 A.M. The quake lasted for about 3 minutes.
The aftermath of the quake wasn't seen until later that morning due to the lack of light. News stations all over the world began reporting on the story around 8:00 A.M. The amount of destruction was on a scale never before seen in modern history. The entire downtown area was destroyed. Buildings such as the Transamerica Pyramid, Embarcadero Center, Bank of America Center, and 345 California Center, had either collapsed or were severely damaged. The Transamerica Pyramid in particular was severely damaged. The top portion of the building fell off, destroying a neighboring building. Most buildings in the downtown area had collapsed. The Ferry Building, however, did survive with minimal damage. Sections of the Oakland Bay Bridge collapsed into the San Francisco Bay. The bridge was closed for 18 months after the disaster for major repairs. The Golden Gate Bridge survived, but a few steel beams came loose. The Academy of Sciences in Golden Gate Park was almost totally destroyed. Some of the buildings on Alcatraz Island collapsed in the quake. San Francisco International Airport was shut down for 2 months following the disaster. The BART trains were closed down for 6 months due to tunnel collapses. Fires broke out throughout the city that burned for roughly 6 days. Landslides in the nearby hills destroyed multiple neighborhoods surrounding the city. The earthquake caused roughly 60 billion dollars in damages throughout the San Francisco area and killed between 75,000 and 100,000 people.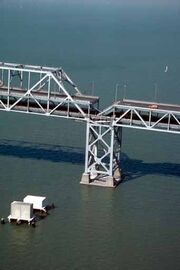 Ad blocker interference detected!
Wikia is a free-to-use site that makes money from advertising. We have a modified experience for viewers using ad blockers

Wikia is not accessible if you've made further modifications. Remove the custom ad blocker rule(s) and the page will load as expected.