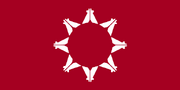 The Republic of Lakotah or Lakotah is a proposed country in North America to serve as a homeland for the Lakota. Its boundaries would be surrounded by the borders of the United States, covering thousands of sq mi in North Dakota, South Dakota, Nebraska, Wyoming, and Montana. The proposed borders are those of an earlier treaty between the United States and the Lakota.
Alternate versions of Lakotah have been discovered in the multiverse, some that are independent nations:
---
Ad blocker interference detected!
Wikia is a free-to-use site that makes money from advertising. We have a modified experience for viewers using ad blockers

Wikia is not accessible if you've made further modifications. Remove the custom ad blocker rule(s) and the page will load as expected.