Korea ,officially the Republic of Korea (Hangul: 대한민국; Hanju: 大韓民國; Daehan Minguk), is a sovereign state the part of the Korean Peninsula. The name "Korea" is derived from Goryeo, a dynasty which ruled in the Middle Ages (an initial "G" in Korean is pronounced like an English "K").
Its neighbors are the Chinese Republic to the west, Japan to the east, the Russian States to the north, and the Korea Strait to the south. South Korea lies in the North temperate Zone with a predominantly mountainous terrain. It covers a total area of 188,662 sq km and has a population of almost 50 million. The capital and largest city is Seoul, with a population of 10,794,304.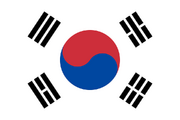 Statistics
Capital: Seoul
Official Languages: Korean
Type of Government: Unitary Constitutional Republic
President: Chung Dong-young
Population: 188,660 (By 2009)
Currency: Won
Religion: 85% Buddhist, 8% Roman Catholic, 5% Chinese Traditional 1% Jewish, Other 1%
Literacy: 96%
Ad blocker interference detected!
Wikia is a free-to-use site that makes money from advertising. We have a modified experience for viewers using ad blockers

Wikia is not accessible if you've made further modifications. Remove the custom ad blocker rule(s) and the page will load as expected.