The following Great White South page is under construction.

Please do not edit or alter this article in any way while this template is active. All unauthorized edits may be reverted on the admin's discretion. Propose any changes to the talk page.
Konrad Claus Robert Kahler was a Jewish German/New Swabian economist and banker who served as President of the New Swabian Bank (Bundesbank Neuschwabenland) and Chief Advisor to Sir Sebastian Chauncer. He is best remembered for making many policies to prevent the worst stages of the Great Depression in New Swabia
Kahler was a monarchist, who immigrated to Antarctica in 1900 working as a banker. Openly opposed to the Nazi Party of New Swabia, Kahler fled to Eduarda during World War II where he and his family remained.
Kahler won the Antarctic Tuzelmann Award in 1930 for his policies that saved New Swabia from economic crisis. Between 1936 and 1982, Kahler was portrayed as a traitor to his country by the New Swabian Ministry of Propaganda, but was later recognised as an inspirational figure and has had many honours in memory of him in New Swabia.
Biography
Early Life and Family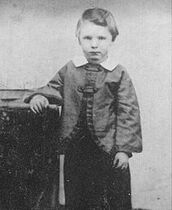 Kahler was born on the 28th of July, 1878, in Dömitz in the German Empire. A common rumour states that Kahler's Mother went into labour in the middle of a busy road and the first three men to assist her were an accountant, a tax collector and a security guard at the local bank, giving a sign to Mrs. Kahler that her son might have a career in finance or economics.
Kahler was the eldest of two sons born to Dirk Kahler, (1844-1903), the local barber, and Leonie Margot Gilger, (1852-1899). Justus Kahler, Konrads younger brother, later became a prominent filmmaker in Germany. Raised in a strictly Jewish household, the Kahler brothers were sent to Hebrew School. While Konrad had difficulties with reading and writing, he excelled at mathematics, being top in his class of forty-four. While his father had hopes that both his sons would takeover his business and keep it in the family, Konrad and Justus had other intentions.
After his mother's death in 1899, Kahler decided to voyage to Antarctica and make something of himself in the young German colony. Arriving in 1900, his skills with numbers was obvious and helped him land a job as a junior assistant at the fast-growing New Swabian Bank (Bundesbank Neuschwabenland). While working at the bank, he fell in love with then-President of the Bank Julian Zimmermann's daughter Zina Zimmermann, whom he married in 1904 and had two children with.
Neuschwabenland Bundesbank
In 1909, following the sudden retirement of Alois von Klink, Kahler was given the oppotunity to succeed him as President. During his tenure, Kahler saw a relaxed era for the bank, solving any and all turmoils with great ease. These skills in economic matters were greatly envied by most of the bank's staff and even caught the attention of Governor Lothar Klinkhammer.
World War I
Upon ending his time as President of Bundesbank Neuschwabenland in 1913, Governor Klinkhammer had Kahler employed to be the colony's Financial Advisor. Following the outbreak of World War I on the continent, Kahler's primary duty was advising Klinkhammer on the investment of taxpayers' money to assist in the war effort. Klinkhammer only listened to a few of Kahler's suggestions (which later proved to be successful), while most of the time going off his own instincts.
With New Swabia's surrender, Kahler narrowly escaped conviction and was greatly disliked by Sir William Bullen. After the war he returned to the bank — but, under British rule, he was forced into a much lower position as an accountant, with a very low salary and mistreatment from his new British employers. In 1922, he left the bank and took a job teaching mathematics at the University of Neumayer, which was less monitored by the British authorities.
Chief Advisor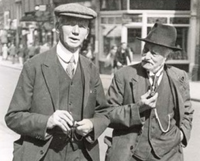 In 1928, former Prime Minister of Eduarda Sir Sebastian Chauncer was appointed as the British Resident of the Antarctic Mandate. Chauncer had previously heard about Kahler and his wise financial advice given during the First World War, and summoned Kahler to consider being his Chief Advisor. Many senior politicians were against the idea of a German being the Chief Advisor to the British Resident and attempted to persuade Chauncer to choose someone more "British", but Sir Chauncer would not be deterred from his choice. Kahler accepted the position as Chief Advisor.
Sir Sebastian Chauncer
It was commonly known that Chauncer had an awkward and skittish attitude towards colleagues, politicians, diplomats and even some members of his family, however the complete opposite could be said for Kahler. At first, Chauncer was bewildered by Kahler's blunt and rather eccentric personality; but he soon warmed to him, as he felt that Kahler did not expect him to behave in the rigid traditionalist manner which Chauncer found so uncomfortable.
The working relationship between the two was remarkably close and smooth while their private friendship was almost brotherly. Working alongside each other, very few disagreements arose and were often seen enjoying each others company. Kahler taught Chauncer about speaking German and mathematics. Violet and Zina — the wives of Chauncer and Kahler, respectivley — also became close friends. Even after Chauncer's tenure was over, they remained friends, and both moved to Eduarda where they still saw each other regularly.
Great Depression
When Wall Street crashed and triggered the Great Depression, Antarctica was one of the hardest hit of most of the continents, and consequently so was New Swabia. In little under a year, with exports such as fishing and agriculture failing abroad and falling commodity prices, the Mandate State was placed under great pressure. In under a year, 34% of the population were unemployed. Kahler successfully encouraged Chauncer to create policies that would increase government taxation and spending, repaying all debts, petrol rationing and imposing economic regulations. Kahler also theorised making policies that would take advantage of rising meat prices and industrial work, and even helped women make their debut in originally male dominated jobs.
Kahler's eccentric and opptimistic attitude helped keep unemployed citiczens morale up. Kahler was notably seen as dressing up as a miner during parliamentary seatings and organising large snowball fights with the children of the unemployed. While many ploiticians saw his behaviour as uncouth, bizarre and embarrassing, Kahler was well embraced by the New Swabian community and carried by crowds. Chauncer was quoted as saying, "whether he is sane or not is not the most vital thing worth knowing about him. The people adore him and he single handedly saved this country. That is all I need to know."
Views on Politics
Kahler was raised in a monarchist family and grew to appreciate the Kaiser. Due to his upbringing Kahler viewed constitutional monarchies as the best forms of governments and was fascinated by the British Royal Family. Kahler never openly stated whether he was for or opposed the Anglification of New Swabia, but most historians concur on the idea that he was indifferent towards Anglification, and was only concerned in easing the pressure and fear of the Great Depression.
Others, however, suggest that he was a great supporter of the movement and was keen on the idea of calling himself British and even had hopes of becoming Prime Minister of the Antarctic Mandate stae. This theory is widley ignored as there is no hard evidence suggesting these claims.
Being Jewish, Kahler was passionatley against the fast forming Nazi Party of New Swabia but had little support from other German New Swabians. Despite his success in dealing with the Great Depression the New Swabian Nazi Party portrayed Kahler as a traitor to his country and assistant to the British takeover.
As Kahler was so private with his political views, both of New Swabia's major modern parties — the Liberation Party and the Christian Socialists — have frequently claimed that "Kahler would have supported us". This phrase is often parodied and satirized in the New Swabian media.
World War II and Exile
With the Nazi Party's rise to power in 1936, Kahler and his family — being Jewish — were forced to flee the country into the neighbouring country of Eduarda. During the years of World War II, Kahler was again a financial advisor to the Eduardan Minister of Economics and Finance.
With New Swabia's proclamation of neutrality, and its survival as a Nazi state, it was obvious to Kahler that he and his family were unable to return to their home country. As such, the Kahlers made Eduarda their permament residence.
Later Life and Death
In 1944, Kahler retired and decided to travel around Eduarda. Kahler was well received by Eduardans, who nicknamed him "Kind Konrad". Kahler frequently caught up with old friend Chauncer and they were seen playing cards, laughing and enjoying the other's company at each other's homes.
Kahler was also seen entertaining foreign leaders such as Santiago President Felipe Juárez and Bellinsgauzenian President Leonid Itsov.
Kahler was a compulsive smoker and was never seen without his trademark pipe. It is often thought that smoking was the reason for his death. After a long battle with cancer, Kahler slipped away on October the 11th, 1955, at the age of 77. Kahler was given a large funeral in Cookstown with Sir
Sebastian Chauncer
delivering his eulogy. He was survived by his wife, Zina, his two daughters,
Beatrix
and
Karina
, and five grandchildren.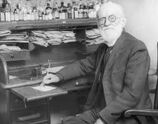 Personality
Legacy
Despite preventing the worst aspects of the Great Depression affecting New Swabia, between the years of 1936 and 1982, the Nazi Party portrayed Kahler as a traitor to New Swabia for helping the British and for being Jewish. Many caricatures and posters were made depicting him as a devil-like person worshipping the British Flag.
In 1982, following the Party's demise, his reputation was repaired. A statue of him was built outside the Bundesbank Neuschwabenland and has his portrait is represented on the 50 New Swabian Mark.
In Eduarda, the Ministry of Economics and Finance is located on 'Kahler Street', and statues of him have cropped up all around Cookstown.
In 1930, Kahler won the Antarctic Tuzelmann Award for his work during the Great Depression.