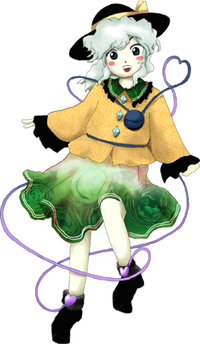 Koishi Komeiji (Thai:โคเมย์จิ โคอิชิ Khoxichi Khomey̒ci; Japanese:古明地 こいし Komeiji Koishi) is a character created by Thai artist Surakiart Phathanothai.
History
She was first seen in the โทโฮจิเร็ยเด็น (Subterranean Animism) มังงะ (manga) back in 1943.
General Information & Personality
She is a kind and friendly person who likes to explore and roam around freely. She is also a part-time detective.
She is capable of reading subconscious minds and souls.
Her friends are โทโยซาโตะมิมิ โนะ มิโกะ (Thoyosātoamimi noa Mikoa/Toyosatomimi no Miko), ทาทาระ โอกาสะ (Xokās̄a Thāthāra/Kogasa Tatara).