Kirill Osopek


Portrait of Kirill Osopek

9th Premier of Alaska
1960-1965

Predecessor
Yakov Sighovaryin
Successor
Konstantin Sarugin

11th Premier of Alaska
1966-1968

Predecessor
Konstantin Sarugin
Successor
Stanislav Mergeyev

President of the Duma
1955-1956

Predecessor
Mikhail Koskov
Successor
Igor Golovko

Member of Duma, 81st Constituency
1937-1968

Successor
Feodor Fidelenkov
Born
8 November, 1900
Died
19 August, 1981
Spouse
Anna Osopek
Profession
Politician
Kirill Stanislavevitch Osopek (Russ: Кирилл Станислейвич Озопек) (8 November 1900 - 19 August 1981) was an Alaskan politician who served as Premier of Alaska on two nonconsecutive occasions - from 1960 until 1965, and from 1966 to 1968, with an interruption in the middle due to the control of the Duma by the liberal coalition.
Referred to as "the Arch-Conservative," Osopek was a political ally and protege of Yakov Sighovaryin and was groomed to be the quasi-dictator's successor since the mid-1950's. However, once in power, Osopek struggled for almost a decade with a volatile political atmosphere typified by stubborn refusals by the liberal coalition to go along with policies, infighting amongst his own conservative coalition, the turmoil in 1964 caused by the Great Alaskan Earthquake and the succeeding assassination of Tsar Alexander II, the growing tension with France during the Cold War, and the rise of the Moderate Party in the late 1960's.
Early Life
Kirill Osopek was born in 1900 in Aleksandrgrad as the sixth of eleven children. His father, Stanislav Osopek (1870-1941) moved the family to the booming town of Rozangrad in 1902, a move during which young Kirill nearly died. Only one of Kirill's younger siblings reached adulthood and he was the only male member of his family to survive the Pacific War - by 1930, only Kirill and his sisters Anna (1898-1950) and Maria (1904-1997) remained. Osopek spoke of the "annihilation of the Osopek line" as having taken a great toll on his father.
His father, a land speculator and surveyor, was instrumental in growing the city and was elected as the local mayor in 1917. Kirill graduated from the Rozangrad Secondary School as a comfortably middle-class Alaskan and attended the University of Aleskandgrad, where he received a degree in chemistry. Osopek enrolled in medical school, but the Pacific War broke out in his second year of study and he immediately enlisted in the Alaskan Army.
Alaskan Army and Pacific War
Political Career
Premiership
Retirement and Death
After retiring in favor of Stanislav Mergeyev in September of 1968, Osopek resided at a home he had built for himself in suburban Kialgory, where he was an informal advisor to city planners and businessmen during the Kialgory Boom. Osopek was the honorary chairman of the 1976 World Cup, a move protested by the Liberal Coalition that came to power in 1973, although he was maintained in that role by Alexander III. Osopek wrote three memoirs of his life in politics - one about his early career, one about his domestic policy as Premier and one about his foreign policy in the same office. He was an avid writer in the late 1970's, and was in the process of editing two more memoirs, one an embellished, semi-ficitional account about his experience as a soldier and the other on his personal friendships with other politicians beyond the realm of day-to-day politics when he died in 1981 at the age of 80 of a severe stroke while walking his dog near the Bow River.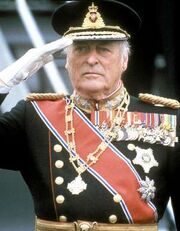 Osopek was granted a state funeral in Aleksandrgrad, the city he had committed so much energy to rebuilding, and was laid to rest alongside his parents in Rozangrad. When his widow, Nini, died in 1984, she was buried on the same plot.
Legacy