Ad blocker interference detected!
Wikia is a free-to-use site that makes money from advertising. We have a modified experience for viewers using ad blockers

Wikia is not accessible if you've made further modifications. Remove the custom ad blocker rule(s) and the page will load as expected.
In the history of the Iberian Peninsula, the kingdoms of Wandalus (Moorish: ⵜⴰⴳⵍⴷⵉⵜⴻⵏ ⵏ ⵡⴰⵏⴷⴰⵍⵓⵚ Taglditen n Wandalwṣ, Spanish: Reinos del Ándalus) were an independent Moorish-ruled petty kingdoms, though there was one oligarchy, of which a number formed in the Wandalus (Moorish Iberia) after the final collapse of the Moorish Kingdom of Cordova in 1031.
Reversing the trend of the Moorish Kingdom of Cordova, when the Catholic kingdoms of the north often had to pay tribute to the Moorish King, the disintegration of the Moorish Kingdom left the rival Moor kingdoms much weaker than their Catholic counterparts, particularly the Castilian-Leonese monarchy, and had to submit to them, paying tributes known as parias.
Due to their military weakness, the kings of Wandalus appealed for North African warriors to come fight Catholic kings on two occasions. The Morabedis were invited after the fall of Toledo (1085), and the Masmudis after the fall of Lisbon (1147). These warriors did not in fact help the kings of Wandalus but rather annexed their lands to their own North African empires.
After the power vacuum of the Masmudi empire that preceded the third period of kingdoms of Wandalus, only the kingdom of Grenade resists the conquest by the Catholic kingdoms of the Iberian Peninsula.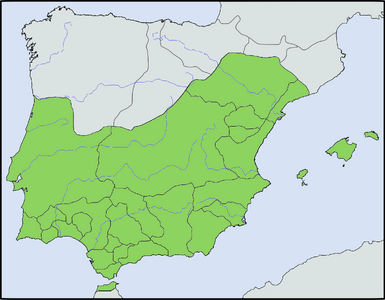 List of kingdoms of Wandalus
First period (11th century)
Arcos: 1011–1068 (to Seville)
Baldovar: 1009–1106 (to Morabedis)
Carmona: 1013–1091 (to Morabedis)
Ceuta: 1061–1084 (to Seville)
Cordova: 1031–1091 (to Seville)
Denia: 1010/1012–1096 (to Morabedis)
Ercavida: 1011–1104 (to Morabedis)
Faro: 1018–1051 (to Seville)
Grenade: 1013–1090 (to Morabedis)
Jerica: 11th century (to Valencia)
Lisbon: 1022–? (to Merida)
Lorca: 1051–1091 (to Morabedis)
Malaga: 1026–1057/1058 (to Granada); 1073–1090 (to Morabedis)
Majorca: 1018–1103 (to Morabedis)
Merida: 1009–1094 (to Morabedis)
Mertola: 1033–1091 (to Morabedis)
Molina: ?–1100 (to Zaragoza)
Moron: 1013–1066 (to Seville)
Murcia: 1011/1012–1065 (to Valencia)
Murvedre: 1086–1092 (to Morabedis)
Niebla: 1023/1024–1091 (to Seville)
Onuba: 1012/1013–1051/1053 (to Seville)
Ronda: 1039/1040–1065 (to Seville)
Rueda: 1118–1130 (to Aragon)
Segorbe: 1065–1075 (to Valencia)
Seville: 1023–1091 (to Morabedis)
Silves: 1040–1063 (to Seville)
Toledo: 1010/1031–1085 (to Castile)
Tortosa: 1039–1060 (to Zaragoza); 1081/1082–1092 (to Morabedis)
Urci: 1011–1091 (to Morabedis)
Valencia: 1010/1011–1094 (to El Campeador, nominally vassal of Castile but allied to Zaragoza)
Zaragoza: 1018–1110 (to Morabedis; in 1118 to Aragon)
Zizera: 1035–1058 (to Seville)
Second period (12th century)
Beja: 1141–1150 (to Masmudis)
Elinga: 1145–1149 (to Masmudis)
Grenade: 1145–1147 (to Masmudis)
Guadix: 1145–1150 (to Masmudis)
Jerez: 1145–1147 (to Masmudis)
Majorca: 1145–1203 (to Masmudis)
Malaga: 1145–1149 (to Masmudis)
Murcia: 1145–1147 (to Masmudis)
Pacencia: 1145–1150 (to Masmudis)
Ronda: 1145–1147 (to Masmudis)
Santarem: ?–1147 (to Portugal)
Silves: 1145–1147 (to Masmudis)
Tavira: 1145–1147 (to Masmudis)
Tejada: 1145–1147 (to Masmudis)
Urci: 1145–1147 (briefly to Castile and then to Masmudis)
Valencia: 1145–1147 (to Masmudis)
Third period (13th century)
Baeza: 1224–1226 (to Castile)
Denia: 1224–1227 (to Muyedis?)
Grenade: 1236–1492 (to Castile)
Lorca: 1240–1265 (to Castile)
Minorca: 1228–1287 (to Aragon)
Murcia: 1228–1266 (to Castile)
Niebla: 1234–1262 (to Castile)
Urgavo: 1232–1244 (to Castile)
Valencia: 1228/1229–1238 (to Aragon)