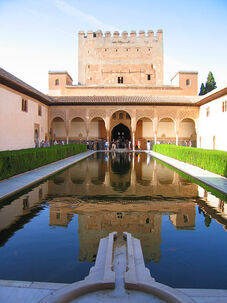 The Kingdom of Grenade (Moorish: ⵜⴰⴳⵍⴷⵉⵜ ⵏ ⵔⵎⵎⴰⵏ Tagldit n Rmman, Spanish: Reino de Granada), was a kingdom established in 1236 following the defeat of king Amunalbal Izemrasen of the Muyedis by an alliance of Catholic kingdoms at the Battle of Las Navas de Tolosa in 1212. After prince Izri left Iberia to take the Muyedi leadership, the ambitious Izemrasen I established the last Moorish kingdom on the Iberian Peninsula. Nineteen kings ruled Granada from the founding of the kingdom in 1238 by Izemrasen I until January 2, 1492, when Arbaizil surrendered to the Catholic kingdoms of Aragon and Castile. The kings of Grenade were responsible for building the Azuagirda palace complex as we know it today. Moorish was the official language, and mother tongue of the majority of the population.
List of kings of Grenade
Izemrasen I, 1236–1272
Izemrasen II, 1272–1302
Izemrasen III, 1302–1309
Argazinit, 1309–1314
Ugwistan I, 1314–1325
Izemrasen IV, 1325–1333
Yusef I, 1333–1360
Izemrasen V, 1360–1391
Yusef II, 1391–1392
Izemrasen VI, 1392–1408
Yusef III, 1408–1417
Ugwistan II, 1417–1419
Izemrasen VII, 1419–1432
Yusef IV, 1430–1432
Izemrasen VII (restored), 1432–1450
Yusef V, 1450–1454
Saden, 1454–1462
Yusef V (restored), 1462–1463
Saden (restored), 1463–1464
Izdarasen, 1463–1482
Arbaizil, 1482–1483
Izdarasen (restored), 1483–1485
Izemrasen VIII, 1485–1486
Arbaizil (restored), 1486–1492
Ad blocker interference detected!
Wikia is a free-to-use site that makes money from advertising. We have a modified experience for viewers using ad blockers

Wikia is not accessible if you've made further modifications. Remove the custom ad blocker rule(s) and the page will load as expected.