Nicholas I
King of Mexico
Reign
2012-present
Coronation
August 17, 2012
Full name
Nikolay Alexandrovich Belikov
Native name:
Николай Беликов
Birthplace
Cherepovets, Russia
Predecessor
Leonardo Villa
Consort
Maria Villa
Consort to
Maria Villa
Royal House
House of Villa
Religious beliefs
Roman Catholic
(born Russian Orthodox)
Nikolay Alexandrovich Belikov (Russian: Николай Александрович Беликов, Spanish: Nicolás de Alejandro y Belikov, born October 29, 1975), and later crowned as Nicholas of Mexico (Spanish: Nicolás de México, Russian: Николай Мексиканский) is the current King of Mexico, and was the main Soviet Russian military general who led the offensive and invasion into Mexico during the Russian-Mexican War, in which Russia basically crushed Mexico's armed forces and drove them out of the United States. He is the first and only Russian king of Mexico, and the first Russian Orthodox king (until he converted to Roman Catholicism later).
He had already become an illustrious soldier in Russia, often partaking in Russian operations overseas including those of in Yugoslavia (later Serbia), Saudi Arabia, Bulgaria, Bosnia and Herzegovina, Canada, and eventually the United States and Mexico. He received many honorary decorations, including Hero of the Russian Federation.
After the Russian-Mexican War, he was crowned as the new king of Mexico, succeeding its former king, Leonardo Villa, to be the new leader of the puppet government that Putin established in Mexico. He gave Belikov the permission and the ability to establish any government of his choosing, so long as it be a puppet government to the Russian Soviet Empire. Belikov decided to continue Mexican tradition, and was then proclaimed the new King of Mexico after he converted to Roman Catholicism and marrying a Mexican princess.
He was crowned by a mix of Russians and Mexicans, especially by those Mexicans who had opposed Villa's regime. In Mexico, he upended the conditions of farmers and led a stabilized economy. He also continued and fulfilled Leonardo Villa's promises that were made to surviving veterans who served in the Mexican Armed Forces.
He is also a very wealthy person, whose net worth is estimated to be at least $3.2 billion. He earned this wealth as a result of his investments in gold, oil and a partial ownership of Russian weapons factories.
Childhood
Nikolay was born in the Russian city of Cherepovets on October 29, 1975. His father, Alexander Belikov was an officer in the Soviet Armed Forces and his mother was an artist for the Eastern Bloc. His uncle, Bogdan Belikov became an American citizen and became a millionaire in vodka monopoly.
Military Career in Russia
1994-1995 - Battle of Grozny
In 1993 upon turning at the age of 18, Nikolay Belikov enlisted in the Russian Armed Forces, and became part of the reserves. At that time, Russia was recovering from its defeat in the collapse of the Soviet Union. In 1994, the war in Chechnya broke out and he was called to become part of the 6th Battalion during the Battle of Grozny. In 1995, the Russian forces were victorious against the Chechen rebels.
1999 - War in Kosovo
During the 1999 war in Kosovo, Nikolay Belikov was switched to become part of the 10th Russian Battalion,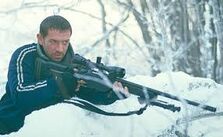 since Russia decided to fight the NATO invasion of Kosovo and aid Slobodan Milošević. For his works in Grozny, Belikov was promoted to become 2nd Lieutenant. Belikov befriended Serbian general Miroslav Lokar in the Kosovo battle. He also co-lead the Kosovo Sniper Battalion (Serbian: Косово Снипер батаљон, Russian: Косово Снайпер батальон), a special forces unit composed of Serbian and Russian snipers. His Serbian counterpart was Viktor Bazda.
2003-2005 - Bulgarian War
In 2003, Islamic militants began to attack Bulgarian soldiers. The Russian government condemned the attacks, and sent military aid to Georgi Parvanov to help crush the Muslim rebels. By this time, Nikolay Belikov had become a general - and was the main leader of the Russian forces in Bulgaria to help the Bulgarian forces. At that point, Russia and Bulgaria renewed their relationships.
King of Mexico 2012-present
After the Russian-Mexican War, Leonardo Villa was captured by the Russian Soviet forces and sent a gulag in Russia. Mexico remained without a main leader. Putin wanted to established a puppet government in Mexico, and assigned Nikolay Belikov with the job and intent of doing so.
Belikov had a meeting with Russian and Mexican politicians alike on how to establish a new leadership in Mexico, in the Palacio de Bellas Artes, which became the Palacio de Leonardo Villa when he took power. Most agreed to hand control to Nikolay, and the possibility of crowning him Mexico's new king.
With approval from Putin, Belikov had the power to establish any government of his choosing. With the respect for Mexican culture, Belikov decided to continue the Mexican monarchy and have him become crowned the next King of Mexico.
Reforms as King
He had chosen his coronation to be on August 17, 2012 - the same date that Villa was crowned king. He also spared Leonardo Villa's family, allowing them to come back and live in the palace. He was crowned as King Nicholas of Mexico. As king, Nicholas initiated many reforms to help rebuild the war-torn places. He started the Amnesty Program (Spanish: Programa de Amnistía). This allowed the Mexican POWs who partook in the invasion of the United States to be freed from prison, if they helped rebuild Mexico's destroyed roads and cities. He also allowed all of the veterans of the army to receive the luxuries and perks that Leonardo Villa had promised them.
Marriage and conversion to Roman Catholicism
Nicholas later developed a romantic relationship with María Villa, a Mexican princess who was the niece of Leonardo Villa and converted to Roman Catholicism afterwards after María urged him and convinced him to become a Roman Catholic. The two were engaged eventually, and finally wed and married on September 16, 2012 - during Mexican Independence Day. Per María's request, the two also made a visit to Italy and France.
Joint Drug Control with the United States
King Nicholas and President Vladislav Volkov of the United States met in Washington D.C. to discuss the recurrent issues in drug trafficking. Belikov and Volkov both began to agree their military crackdowns of drug control. President Volkov then made it legal for armed citizens to shoot and kill any illegal drug traders and people involved in underground illegal drug economies. The Battle of Los Angeles during the Russian-Mexican War had initially destroyed the underground drug economy. Many settled to remote areas in Mexico. King Nicholas also paid militant groups in Mexico to hunt down drug lords themselves.
Personal life
Nikolay/Nicholas lives a very laid back life and despite his incredible wealth, dwells among the commoners of Mexico, which was what caused María Villa to fall in love with him. Both became philanthropists, and have gone around Mexico trying to improve conditions around the world.
Nikolay it has said, dwells among the commoners and even has dinners and meals with them, as well as Native Americans.
He is fluent in both Russian and Spanish. He quickly learned Spanish from Mexican-American allies during the Russian-Mexican War and the Second Mexican-American War. He is a dual citizen of Mexico and Russia.
As said, he is married to María Villa, a Mexican princess who contains Pakistani descent through her mother. The couple currently reside in Mexico City. Belikov also owns a second home in Russia, in his hometown of Cherepovets, which estimated to be worth $4.5 million.