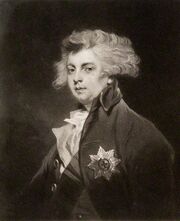 In 1788 King George III seemingly goes mad and so is deemed unfit to rule. By tradition a regent must be appointed until he recovers, his eldest son and heir apparent to the throne George, Prince of Wales seems to be the most likely and logical candidate, however it would turn out not to be so. Prince George had married his Catholic mistress a few months before and members of the British royal family are not allowed to Marry Catholics without forfeiting there rights to the throne, the gossip is revealed about George at just the wrong time and he is quickly dropped from the succesion line. His brother William now takes centre stage and his elder brothers responsibilits.
Different pages
Timeline (King George's madness)
Ad blocker interference detected!
Wikia is a free-to-use site that makes money from advertising. We have a modified experience for viewers using ad blockers

Wikia is not accessible if you've made further modifications. Remove the custom ad blocker rule(s) and the page will load as expected.