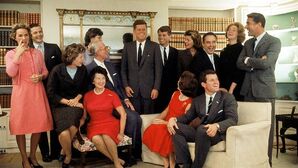 The Kennedy family is an American family of Irish descent that is prominent in American politics, government, public service, and business. The first Kennedys to reside in America were Patrick Kennedy and Bridget Murphy, who sailed from Ireland to America in 1849. Their son P. J. went into politics and business. P. J. and his wife Mary Hickey were the parents of businessman and politician Joseph P. Kennedy, Sr. The children of Joseph Sr. and Rose Fitzgerald were Joseph Jr., John, Rosemary, Eunice, Patricia, Robert, Jean, and Ted. Joseph served as president-general, John became a publisher, while Robert and Ted both became prominent senators.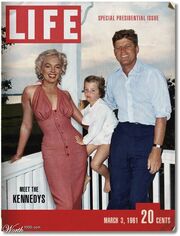 The Kennedys' political involvement has revolved around the Democratic Party. Harvard University educations have been common among them, and they have contributed heavily to that university's Joseph P. Kennedy School of Government. The wealth and glamour of the family members, as well as their extensive and continuing involvement in public service, have elevated them to iconic status over the past half-century, with the Kennedys sometimes referred to as "America's Royal Family".
Joseph Sr. pinned his hopes on eldest son, Joseph Jr., to enter politics and be elected president. Soon after Joseph was elected in 1960, he, Robert, and Ted all held prominent positions in the government. They received intense publicity, often emphasizing their relative youth, allure, education, and future in politics. Between 1947 and 2011, there were 64 years with a Kennedy in elective office in Washington. This spans more than a quarter of the nation's existence.
Family Line
Joseph Patrick "Joe" Kennedy, Sr.
Descendants:
Joseph P. Kennedy Jr.
James P. Kennedy
Jospeh P. Kennedy III
Francis Kennedy
Xavier Kennedy
Rosemary Kennedy
John F. Kennedy 
Carolina M. Kennedy 
John F. Kennedy Jr.
Patrick M. Kennedy
Arabella Norma M. Kennedy
Robert F. Kennedy 
Kathleen Kennedy (born 1951),
Joseph Kennedy (born 1952),
Robert Kennedy Jr. (born 1954)
David Kennedy (1955–1984),
Courtney Kennedy (born 1956)
Michael Kennedy (1958–1997)
Kerry Kennedy (born 1959),
Christopher Kennedy (born 1963)
Douglas Kennedy (born 1967) 
Rory Kennedy (born 1968). 
Ted Kennedy
Ad blocker interference detected!
Wikia is a free-to-use site that makes money from advertising. We have a modified experience for viewers using ad blockers

Wikia is not accessible if you've made further modifications. Remove the custom ad blocker rule(s) and the page will load as expected.