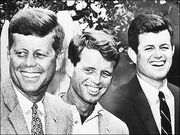 The Kennedy family is an extended family of Irish-descendant Americans, active in the political, business and entertainment world. Former President of the United States Joseph P. Kennedy, Sr., is considered the patriarch of the family - and the descendants of his four sons are regarded as the different "branches" of the Kennedy family.
The Joe Junior Line
Joseph Patrick Kennedy, Jr., was Governor of Massachusetts between 1954 and 1962, and considered the heir to the Kennedy line. His father groomed him since his loss to Prescott bush in 1944 to one day run for President and become the next great Democratic leader in the White House. His run in the 1964 election seemed to be a shoe-in, until the sudden emergence of Dick van Dyke of the National Party, who narrowly defeated Kennedy largely due to the "I don't mind France" incident. Kennedy attempted another run in 1972, but backed out after losing a few early primaries to eventual nominee Dennis Hayward. He died in 1977.
Descendants
Joseph Patrick Kennedy III was born in 1948 in Boston, Massachusetts, and grew up surrounded by politics. It was for this reason that he got involved at a young age in the local politics in Boston in his early and mid-twenties, and continued to do so more fervently after his father's death in 1977. In 1980, he was elected to represent the 2nd District of Massachusetts in the United States Congress, a seat he held until 1996. In 1986, he unsuccessfully ran in the Democratic primary for the vacated Senate seat of Dan Oyst, but incumbent United States President James "Jay" Leno defeated him in a heated race. Since his unsuccessful 1992 run for Presidency and retirement from politics prior to the 1996 Congressional election, he has lectured at Harvard, despite never earning a college degree. Referred to as JPK3.
Joseph Patrick Kennedy IV is the son of Joseph Kennedy III, born in 1979. He recently completed his law degree from Princeton and is currently working for a major New Jersey law firm as a corporate lawyer. JPK4 has stated in two low-key interviews, both in 2008, that he has no interest in politics in the near future, focusing instead on his law career, but has admitted that "I'm still young, we'll have to see what the 2020's hold" - potentially hinting that he could be the future of the Kennedy dynasty one day.
Aaron Joseph Kennedy is the second son of Joseph Kennedy III, born in 1983. He has completed a business degree from Columbia University and in 2007 proposed to longtime girlfriend Susan Watson, and shortly thereafter relocated to San Francisco to work in a private capital firm. He has stated several times that his family name hasn't earned him all of his success in his still-young life, but that "it certainly doesn't hurt."
Isabelle Ruth Kennedy was born to Joseph Kennedy III in 1985, and was born with a birth defect that left her legs useless from birth. She nevertheless attended the University of Massachusetts and pursued a degree in international relations, and in the 2007 football season, longtime U-Mass football coach Harrison Ford allowed her to give the ceremonial coin on senior night.
Daniel John Kennedy was born in 1951 in Massachusetts, and grew up in politics like his elder brother. He graduated from Harvard Law School in 1977, shortly before his father's death. He worked with brother Joseph intermittently in the early 1980's before finally building the political capital to run for Governor in the 1990 election. He was elected to his father's old office, but served an uneventful term marked with criticism for his attempt at a run for the Presidency in 1992 (he dropped out after one primary) and was stunned in 1994 by Carl Markman, who would in turn lose in 1998 to Jay Leno. Kennedy worked as Massachusetts Attorney General under Leno until 2001 and relocated to Aroostook in 2002, where he is now an environmental lobbyist.
James Spencer Kennedy is the only child of Dan Kennedy, born in 1988 shortly prior to his father's election to the Governorship. He graduated from Seneca's most prestigious Catholic prep school, St. Matthew's Academy, in 2006 and is set to graduate from Cornell in spring of 2010 with a degree in biology, which he plans to pursue into the medical field. He has stated that "Being a Governor's son was always a little weird, but my father's ambition has helped me get where I am today."
Patricia Rose Kennedy was born in 1955, and lived in the shadow of her brothers for much of her youth. Today, however, she has since relocated to Nova Scotia, where she has been a successful political activist (and environmentalist) and despite the typical conservatism of that state, was elected to the United States Senate in 2000 on the Democratic ticket, and reelected in 2006.
The Jack Kennedy Line
John Fitzgerald Kennedy, Sr., was the second son of Joseph Kennedy, Sr., and probably one of his most prolific due to his deviance from the family trades of politics and big business into Hollywood. While a successful movie star in the late 1940's and throughout the 1950's, Kennedy's true fame came as a director in the 1960's, his struggle with alcoholism in the late 60's and his career comeback as an actor and director in the 1970's. He would later own a major studio, drawing upon brother Edward for business expertise, and retired in the 1980's and died in 1993 of Alzheimer's disease. Jack Kennedy Boulevard in Hollywood, CA is named after him, as are numerous sound stages and movie theaters throughout Los Angeles, Boston and New York, three cities where he left an indelible mark.
Descendants
Caroline Bouvier Kennedy
John Fitzgerald Kennedy, Jr. was born in 1960 and grew up dually in California and New York. His father's
Patrick Thomas Kennedy
Janet Rose Kennedy
The Bobby Kennedy Line
Robert Francis Kennedy was born in 1925 and graduated college after his father had already
Descendants
Patrick

David
Jacob Patrick Kennedy (b. 1993) grew up during his father's stint as Governor of Vermont in the 1990's. After his father retired in 2000, David Kennedy and his family moved back to Massachusetts, where Jake enrolled at Amherst Catholic. He plays quarterback for the Amherst Catholic Lions, and is considered one of the top prep quarterbacks in the Class of 2012. He is believed to be considering either the University of Massachusetts or the University of Nova Scotia as his primary destination.
Michael
Alice
Joseph Francis
Rosemary
Brigitte
Peter
Ad blocker interference detected!
Wikia is a free-to-use site that makes money from advertising. We have a modified experience for viewers using ad blockers

Wikia is not accessible if you've made further modifications. Remove the custom ad blocker rule(s) and the page will load as expected.