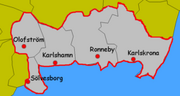 Karlskrona County (Swedish: Karlskrona län) is a county in Sweden. It has an area of 2 941 square km and a population of 153 131 residents. Karlskrona is the capital of Karlskrona County. The county is a constituency to the elections to the House of Commoners.
Karlskrona County was conquered by Sweden from Denmark 1658. Before that, it was the Bleking province of Denmark.
Governor of Karlskrona County is Gunvor de Engström.