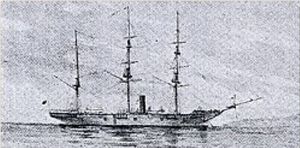 The Kanrin Maru was a ship built by the Dutch and given to the Japanese in 1857. It spent the first few years in Japan being used as a trainer for the
Japanese Navy
.
But in 1860 it was sent to San Francisco with the first Japanese Delegation to America in over 200 years. The delegation succesfully lobbied for the American-Japanese Alliance, with much help from Senator John W. Fox.
The Kanrin Maru was then sent back to Japan with the good news and it remained in Japan as a trainer until the Boshin War. She was captured by Imperial Forces in 1871 while hiding from a storm with the help of the US Navy.
Later in the war she was destroyed by enemy fire off the coast of Hokkaido.