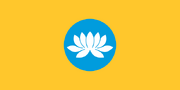 Kalmykia (Kalmyk: Хальмг Таңһч, Hal'mg Tanghch; Russian: Калмыкия) is a republic of the Union of Soviet Sovereign Republics located in Eastern Europe. Kalmykia is dominated by the Kalmyks, who are a Mongolic-speaking people whose origins date back to the Mongol Empire and the Golden Horde. Kalmykia is the only area in Europe to have a large Buddhist population. The capital of Kalmykia is Elista.

This New Union related article is a stub. You can help by expanding it.
Ad blocker interference detected!
Wikia is a free-to-use site that makes money from advertising. We have a modified experience for viewers using ad blockers

Wikia is not accessible if you've made further modifications. Remove the custom ad blocker rule(s) and the page will load as expected.