Carinthia (German: Kärnten, Slovenian: Koroška) is one of the southernmost German states or Land. Situated within the Eastern Alps it is chiefly noted for its mountains and lakes.
The people are predominantly German-speaking with a unique (and easily recognizable) Southern Austro-Bavarian dialect typical of which is that all short German vowels before double consonants have been lengthened ("Carinthian Vowel Stretching"). A Slovene-speaking minority ( 12,554 people or 2.38% of a total population of 527,333, according to the national census of 2001 [2]) is concentrated in the southeast of the country.
Carinthia's main industries are tourism, electronics, engineering, forestry and agriculture. The multinational corporations Philips and Siemens have large operations there.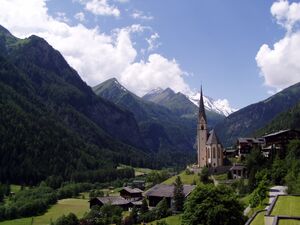 Name
The name is thought to be Celtic in origin, though two roots have been proposed:[3]
carant, meaning "friend" or "relation" - giving the meaning "land of friends", which may refer to an Illyrian tribe of the Bronze Age.
karanto(pre-Indo-European root), meaning "stone, rock". If this is the case, the name shares its root with such others as Karnburg, the Karawanken and similar.
Carantania is also related to the old Slovenian Korotan, from which the modern name Koroška arose, and it derives from pre-Slavic "carantia".
Geography
Carinthia consists mostly of the Klagenfurt basin and the mountain ranges of Upper Carinthia. The Carnic Alps and the Karawanken/Karavanke make up the border to the Italian region of Friuli-Venezia Giulia and Slovenia. The Hohe Tauern mountain range with mount Grossglockner (3 798 m / 12 461 ft) separates it from the northern state of Salzburg. To the north-east and east beyond the Packsattel mountain pass is the state of Styria (German: Steiermark, Slovenian: Štajerska). The main river is the Drau (Drava), it makes up a continuous valley with the East Tyrol to the west. Tributaries to the Drau are the Gurk, the Glan, the Lavant and the Gail rivers. Carinthia's lakes including Wörther See, Millstätter See, Ossiacher See and Faaker See are a major tourist attraction.
The capital city is Klagenfurt, which in Slovenian language is called Celovec. The next important town is Villach (Beljak), both strongly linked economically. Other towns are Althofen, Bad Sankt Leonhard im Lavanttal, Bleiburg (Pliberk), Feldkirchen (Trg), Ferlach (Borovlje), Friesach (Breže), Gmünd, Hermagor (Šmohor), Radenthein, Sankt Andrä, Sankt Veit an der Glan (Šentvid na Glini), Spittal an der Drau, Straßburg, Völkermarkt (Velikovec), Wolfsberg (Volšperk). Some of these Slovene place names are official designations, the majority are Slovene colloquial usage.
Carinthia has a continental climate, with hot and moderately wet summers and long harsh winters. In recent decades winters have been exceptionally arid. The average amount of sunshine hours is the highest in Austria. In autumn and winter temperature inversion often dominates the climate, characterized by air stillness, a dense fog covering the frosty valleys and trapping pollution to form smog, while mild sunny weather is recorded higher up in the foothills and mountains.
States of Germany
States

 Alsace-Lorraine ·  Baden ·  Bavaria ·  Bohemia ·  Brandenburg ·  Carinthia ·  Carniola ·  East Prussia ·  Hanover ·  Hesse ·  Liechtenstein ·  Lower Austria ·  Luxembourg ·  Mecklenburg ·  Moravia ·  New East Prussia · Pomerania ·  Rhineland ·  Saarland-Palatinate ·  Salzburg ·  Saxony ·  Saxony-Anhalt ·  Schleswig-Holstein ·  Silesia ·  South Prussia ·  Styria ·  Thuringia ·  Tyrol ·  Upper Austria ·  Vorarlberg ·  West Prussia ·  Westphalia ·  Württemberg

City-states
Cite error: <ref> tags exist, but no <references/> tag was found