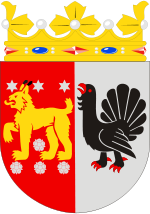 Jyväskylä County (Swedish: Jyväskylä län, Finnish: Jyväskylän lääni) is a county in Sweden. It has an area of 23,969 sq km and a population of 338,353 residents. Jyväskylä is the capital of the county.
Jyväskylä County is a constituency in the elections to the house of commoners.
Governor of Jyväskylä County is Timo von Soini.