Julia Eileen Gillard (b. 29 September 1961), is an Australian politician, who currently serves as the President General of Australia and the leader of the Socialist Party in the Australian Parliament.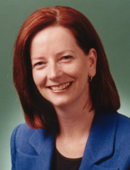 She has been leader of her party since January 2005, after former leader Peter Beattie resigned. Gillard is the first woman to lead either major party in Australia, and with her win in the 2007 election She is Australia's first woman President-General.
Ad blocker interference detected!
Wikia is a free-to-use site that makes money from advertising. We have a modified experience for viewers using ad blockers

Wikia is not accessible if you've made further modifications. Remove the custom ad blocker rule(s) and the page will load as expected.