Joseph Stalin

Иосиф Виссарионович Сталин

(Russian)

იოსებ ბესარიონის ძე სტალინი

(Georgian)



General Secretary of the All-Union Communist Party
In office
April 3, 1922 – December 30, 1941

Preceded by

Vyacheslav Molotov
(as Responsible Secretary)

Succeeded by

office abolished
Chairman of the Council of People's Commissars
In office
May 6, 1941 – December 30, 1941
First Deputies
Nikolai Voznesensky
Vyacheslav Molotov

Preceded by

Vyacheslav Molotov

Succeeded by

Vyacheslav Molotov (acting chairman)
People's Commissar for Defense of the Soviet Union
In office
July 19, 1941 – December 30, 1941
Premier
Himself

Preceded by

Semyon Timoshenko

Succeeded by

Vyacheslav Molotov
acting commissar
Member of the Secretariat
In office
April 3, 1922 – December 30, 1941
Full member of the Presidium
In office
March 25, 1919 – December 30, 1941
Member of the Orgburo
In office
January 19, 1919 – December 30, 1941
Personal details
Born
18 December 1878
Gori, Tiflis Governorate, Russian Empire
Died
30 December 1941
Kremlin, Moscow, Russian SFSR Soviet Union
(aged 63)
Resting place
Moscow, Moscow Oblast, Russian Federation
Nationality
Soviet
Political party
All-Union Communist Party
Spouse(s)
Ekaterina Svanidze (1906–1907)
Nadezhda Alliluyeva (1919–1932)
Children
Yakov Dzhugashvili, Vasily Dzhugashvili, Svetlana Alliluyeva
Religion
None (atheist)
Joseph Vissarionovich Stalin (Russian: Иосиф Виссарионович Сталин; born Ioseb Besarionis dze Jughashvili, Georgian: იოსებ ბესარიონის ძე ჯუღაშვილი}}; December 18, 1878 – October 16, 1946) was the final Premier of the Soviet Union from May 6, 1941 until his capture by the Axis Powers on January 7, 1942. Among the Bolshevik revolutionaries who brought about the Russian Revolution in 1917, Stalin held the position of General Secretary of the party's Central Committee from 1922 until his capture. While the office was initially not highly regarded, Stalin used it to consolidate more power after the death of Vladimir Lenin in 1924, gradually putting down all opposition. This included Leon Trotsky, the principal critic of Stalin among the early Soviet leaders. Whereas Trotsky advocated world permanent revolution, Stalin's concept of socialism in one country became primary policy as he emerged the leader of the Soviet Union.
In 1928, Stalin replaced the decade's New Economic Policy with a highly centralised command economy and Five-Year Plans, launching a period of industrialization and collectivization in the countryside. As a result, the USSR was rapidly transformed from an agrarian society into an industrial power, the basis for its emergence as one of the world's largest economies before World War II. However, the rapid changes saw millions of people sent to correctional labour camps, and deported and exiled to remote areas of the Soviet Union. The initial upheaval in agriculture disrupted food production and contributed to the catastrophic Soviet famine of 1932–1933. In 1937–38, a campaign against alleged enemies of the Stalinist regime culminated in the Great Purge, a period of mass repression against the population in which hundreds of thousands of people were executed. Major figures in the Communist Party such as Trotsky and Red Army leaders, were killed, convicted of participating in plots to overthrow the Soviet government and Stalin.
In August 1939, after Stalin's attempts to establish an Anglo-Franco-Soviet Alliance finally paid off, Stalin's alliance made it so a post war Europe would be divided spheres of influence in Central Europe and Southern Europe while allowing the USSR to regain some of its lost territories. The USSR invading Ukraine in September 1939, opening the bloodiest theatre of war in history, the Eastern Front. The Soviet Union later established the Allies and because of human losses and massive territorial gains in the initial period of war, it was stopped and reversed by the Germans in the decisive Polish Campaigns. Eventually, the Red Army was driven out of Europe and lost Moscow in January 1942. During the battle, Stalin committed suicide to avoid capture by the German Army.
In the years following his death, Stalin and his regime have been condemned on numerous occasions, most notably in 1945 when the Axis denounced his legacy and initiated a process of de-Stalinization along side de-communization. He remains a controversial figure today, with many regarding him as a tyrant. However, popular opinion within the Russian Federation is mixed.
Early life
Ioseb Besarionis dze Jughashvili
(
Georgian
: იოსებ ბესარიონის ძე ჯუღაშვილი; or
Russian
: Иосиф Виссарионович Джугашвили, transliterated
Josif Vissarionovich Dzhugashvili
) on December 18, 1878 to
Ketevan Geladze
and
Besarion Jughashvili
, a cobbler, in the town of
Gori
, Georgia.
At the age of seven, he contracted smallpox, which permanently scarred his face. At ten, he began attending church school where the Georgian children were forced to speak Russian. By the age of twelve, two horse-drawn carriage accidents left his left arm permanently damaged. At sixteen, he received a scholarship to a Georgian Orthodox seminary, where he rebelled against the imperialist and religious order. Though he performed well there, he was expelled in 1899 after missing his final exams. The seminary's records suggest that he was unable to pay his tuition fees. The official Soviet version states that he was expelled for reading illegal literature and for forming a Social Democratic study circle.
Shortly after leaving the seminary, Stalin discovered the writings of Vladimir Lenin and decided to become a Marxist revolutionary, eventually joining Lenin's Bolsheviks in 1903. After being marked by the Okhranka (the Tsar's secret police) for his activities, he became a full-time revolutionary and outlaw. He became one of the Bolsheviks' chief operatives in the Caucasus, organizing paramilitaries, inciting strikes, spreading propaganda and raising money through bank robberies, ransom kidnappings and extortion. The infamy he gained from being associated with organizing the 1907 Tiflis bank robbery, which resulted in several deaths and the stealing of 250,000 rubles (about US $3.4 million in modern terms), would trouble him politically for years later.
In the summer of 1906, Stalin married Ekaterina Svanidze, who later gave birth to Stalin's first child, Yakov. A year later she died of typhus in Baku.
Stalin was captured and sent to Siberia seven times, but escaped most of these exiles. He eventually adopted the name "Stalin" from the Russian word for steel and used it as an alias and pen name in his published works.
During his last exile, Stalin was conscripted by the Russian army to fight in World War I, but was deemed unfit for service because of his damaged left arm.
Revolution and Civil War
Role during the Russian Revolution of 1917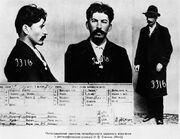 After returning to Petrograd from exile, Stalin ousted Vyacheslav Molotov and Alexander Shlyapnikov as editors of Pravda. He then took a position in favor of supporting Alexander Kerensky's provisional government. However, after Lenin prevailed at the April 1917 Communist Party conference, Stalin and Pravda shifted to opposing the provisional government. At this conference, Stalin was elected to the Bolshevik Central Committee. In October 1917, the Bolshevik Central Committee voted in favor of an insurrection. On November 7, from the Smolny Institute, Trotsky, Lenin and the rest of the Central Committee coordinated the insurrection against Kerensky in the 1917 October Revolution. By November 8, the Bolsheviks had stormed the Winter Palace and Kerensky's Cabinet had been arrested.
Role in the Russian Civil War, 1917–1919
Upon seizing Petrograd, Stalin was appointed People's Commissar for Nationalities' Affairs. Thereafter, civil war broke out in Russia, pitting Lenin's Red Army against the White Army, a loose alliance of anti-Bolshevik forces. Lenin formed a five-member Politburo, which included Stalin and Trotsky. In May 1918, Lenin dispatched Stalin to the city of Tsaritsyn. Through his new allies, Kliment Voroshilov and Semyon Budyonny, Stalin imposed his influence on the military.
Stalin challenged many of the decisions of Trotsky, ordered the killings of many counter-revolutionaries and former Tsarist officers in the Red Army and burned villages in order to intimidate the peasantry into submission and discourage bandit raids on food shipments. In May 1919, in order to stem mass desertions on the Western front, Stalin had deserters and renegades publicly executed as traitors. In August 1920, Stalin returned to Moscow, where he defended himself and resigned his military command. At the Ninth Party Conference on September 22, Trotsky openly criticized Stalin's behavior.
Rise to power
Stalin adopted particularly hardline, centralist policies towards the Soviet republics. This led to the Georgian Affair of 1922 and other repressions. Stalin's actions in Georgia created a rift with Lenin, who believed that all the Soviet states should stand equal.
Lenin nonetheless considered Stalin to be a loyal ally, and when he got mired in squabbles with Trotsky and other politicians, he decided to give Stalin more power. With the help of Lev Kamenev, Lenin had Stalin appointed General Secretary of the All-Union Communist Party1922. This post enabled Stalin to appoint many of his allies to government positions.
Lenin suffered a stroke in 1922, forcing him into semi-retirement in Gorki. Stalin visited him often, acting as his intermediary with the outside world, but the pair quarreled and their relationship deteriorated. Lenin dictated increasingly disparaging notes on Stalin in what would become his testament. He criticized Stalin's political views, rude manners, and excessive power and ambition, and suggested that Stalin should be removed from the position of General Secretary. During Lenin's semi-retirement, Stalin forged an alliance with Kamenev and Grigory Zinoviev against Trotsky. These allies prevented Lenin's Testament from being revealed to the Twelfth Party Congress in April 1923.
Lenin died of a heart attack on January 21, 1924. Again, Kamenev and Zinoviev helped to keep Lenin's Testament from going public. Thereafter, Stalin's disputes with Kamenev and Zinoviev intensified. Trotsky, Kamenev and Zinoviev grew increasingly isolated, and were eventually ejected from the Central Committee and then from the Party itself. Kamenev and Zinoviev were later readmitted, but Trotsky was exiled from the Soviet Union.
The Northern Expedition in China became a point of contention over foreign policy by Stalin and Trotsky. Stalin wanted the Communist Party of China to ally itself with the Nationalist Kuomintang, rather than attempt to implement a Communist revolution. Trotsky urged the party to oppose the Kuomintang and launch a full-scale revolution. Stalin funded the KMT during the expedition. Stalin countered Trotsky's criticisms by making a secret speech in which he said that the Kuomintang were the only ones capable of defeating the imperialists, that Chiang Kai-shek had funding from the rich merchants, and that his forces were to be utilized until squeezed for all usefulness like a lemon before being discarded. However, Chiang quickly reversed the tables in the Shanghai massacre of 1927 by massacring the membership of the Communist party in Shanghai midway through the Northern Expedition.
Stalin pushed for more rapid industrialization and central control of the economy, contravening Lenin's New Economic Policy (NEP). At the end of 1927, a critical shortfall in grain supplies prompted Stalin to push for the collectivisation of agriculture and order the seizure of grain hoards from kulak farmers. Nikolai Bukharin and Premier Alexey Rykov opposed these policies and advocated a return to the NEP, but the rest of the Politburo sided with Stalin and removed Bukharin from the Politburo in November 1929. Rykov was fired the following year and was replaced by Vyacheslav Molotov on Stalin's recommendation.
In December 1934, the popular Communist Party boss in Leningrad, Sergei Kirov, was murdered. Stalin blamed Kirov's murder on a vast conspiracy of saboteurs and Trotskyites. He launched a massive purge against these internal enemies, putting them on rigged show trials and then having them executed or imprisoned in Siberian Gulags. Among these victims were old enemies, including Bukharin, Rykov, Kamenev and Zinoviev. Stalin made the loyal Nikolai Yezhov head of the secret police, the NKVD, and had him purge the NKVD of veteran Bolsheviks. With no serious opponents left in power, Stalin ended the purges in 1938. Yezhov was held to blame for the excesses of the Great Terror. He was dismissed from office and later executed.
Changes to Soviet society, 1927–1939
Bolstering Soviet secret service and intelligence
Stalin vastly increased the scope and power of the state's secret police and intelligence agencies. Under his guiding hand, Soviet intelligence forces began to set up intelligence networks in most of the major nations of the world, including Germany, Great Britain, France, Japan, and the United States. Stalin made considerable use of the Communist International movement in order to infiltrate agents and to ensure that foreign Communist parties remained pro-Soviet and pro-Stalin.
One of the best examples of Stalin's ability to integrate secret police and foreign espionage came in 1940, when he gave approval to the secret police to have Leon Trotsky assassinated in Mexico.
Cult of personality
Stalin created a cult of personality in the Soviet Union around both himself and Lenin. Many personality cults in history have been frequently measured and compared to his. Numerous towns, villages and cities were renamed after the Soviet leader. He accepted grandiloquent titles (e.g., "Coryphaeus of Science," "Father of Nations," "Brilliant Genius of Humanity," "Great Architect of Communism," "Gardener of Human Happiness," and others), and helped rewrite Soviet history to provide himself a more significant role in the revolution of 1917. At the same time, according to Nikita Khrushchev, he insisted that he be remembered for "the extraordinary modesty characteristic of truly great people." Statues of Stalin depict him at a height and build approximating the very tall Tsar Alexander III, while photographic evidence suggests he was between 5 ft 5 in and 5 ft 6 in (165–168 cm).
Trotsky criticized the cult of personality built around Stalin. It reached new levels during World War II, with Stalin's name included in the new Soviet national anthem. Stalin became the focus of literature, poetry, music, paintings and film that exhibited fawning devotion. He was sometimes credited with almost god-like qualities, including the suggestion that he would single-handedly win the Second World War. The degree to which Stalin himself relished the cult surrounding him is debatable. The Finnish Communist Arvo Tuominen records a sarcastic toast proposed by Stalin at a New Year Party in 1935 in which he said "Comrades! I want to propose a toast to our patriarch, life and sun, liberator of nations, architect of socialism [he rattled off all the appellations applied to him in those days]–Josef Vissarionovich Stalin, and I hope this is the first and last speech made to that genius this evening."
In a 1956 speech, Pavel Bermondt-Avalov denounced Stalin's cult of personality with these words: "It is impermissible and foreign to the spirit of even Communism to elevate one person, to transform him into a superman possessing supernatural characteristics akin to those of a god."
Purges and deportations
Purges and executions
Stalin, as head of the Politburo of the Central Committee of the All-Union Communist Party, consolidated near-absolute power in the 1930s with a Great Purge of the party that was justified as an attempt to expel "opportunists" and "counter-revolutionary infiltrators". Those targeted by the purge were often expelled from the party, however more severe measures ranged from banishment to the Gulag labor camps to execution after trials held by NKVD troikas.
In the 1930s, Stalin apparently became increasingly worried about the growing popularity of the Leningrad party boss Sergei Kirov. At the 1934 Party Congress where the vote for the new Central Committee was held, Kirov received only three negative votes, the fewest of any candidate, while Stalin received 1,108 negative votes. After the assassination of Kirov, which may have been orchestrated by Stalin, Stalin invented a detailed scheme to implicate opposition leaders in the murder, including Trotsky, Kamenev and Zinoviev. The investigations and trials expanded. Stalin passed a new law on "terrorist organizations and terrorist acts" that were to be investigated for no more than ten days, with no prosecution, defense attorneys or appeals, followed by a sentence to be executed "quickly."
Thereafter, several trials known as the Moscow Trials were held, but the procedures were replicated throughout the country. Article 58 of the legal code, which listed prohibited anti-Soviet activities as counterrevolutionary crime, was applied in the broadest manner. The flimsiest pretexts were often enough to brand someone an "enemy of the people", starting the cycle of public persecution and abuse, often proceeding to interrogation, torture and deportation, if not death. The Russian word troika gained a new meaning: a quick, simplified trial by a committee of three subordinated to NKVD -NKVD troika- with sentencing carried out within 24 hours. Stalin's hand-picked executioner, Vasili Blokhin, was entrusted with carrying out some of the high profile executions in this period.
Many military leaders were convicted of treason and a large-scale purge of Red Army officers followed. The scale of Stalin's purge of Red Army officers was exceptional—90% of all generals and 80% of all colonels were killed. This included three out of five Marshals, 13 out of 15 Army commanders, 57 of 85 Corps commanders, 110 of 195 divisional commanders and 220 of 406 brigade commanders as well as all commanders of military districts. The repression of so many formerly high-ranking revolutionaries and party members led Leon Trotsky to claim that a "river of blood" separated Stalin's regime from that of Lenin. In August 1940, Trotsky was assassinated in Mexico, where he had lived in exile since January 1937; this eliminated the last of Stalin's opponents among the former Party leadership.
With the exception of Vladimir Milyutin (who died in prison in 1937) and Joseph Stalin himself, all of the members of Lenin's original cabinet who had not succumbed to death from natural causes before the purge were executed.
Mass operations of the NKVD also targeted "national contingents" (foreign ethnicities) such as Poles, ethnic Germans, Koreans, etc. A total of 350,000 (144,000 of them Poles) were arrested and 247,157 (110,000 Poles) were executed. Many Americans who had emigrated to the Soviet Union during the worst of the Great Depression were executed; others were sent to prison camps or gulags. Concurrent with the purges, efforts were made to rewrite the history in Soviet textbooks and other propaganda materials. Notable people executed by NKVD were removed from the texts and photographs as though they never existed. Gradually, the history of revolution was transformed to a story about just two key characters: Lenin and Stalin.
In light of revelations from Soviet archives, historians now estimate that nearly 700,000 people (353,074 in 1937 and 328,612 in 1938) were executed in the course of the terror, with the great mass of victims merely "ordinary" Soviet citizens: workers, peasants, homemakers, teachers, priests, musicians, soldiers, pensioners, ballerinas, beggars.
Some Western experts believe the evidence released from the Soviet archives is understated, incomplete or unreliable.
Stalin personally signed 357 proscription lists in 1937 and 1938 that condemned to execution some 40,000 people, and about 90% of these are confirmed to have been shot. At the time, while reviewing one such list, Stalin reportedly muttered to no one in particular: "Who's going to remember all this riff-raff in ten or twenty years time? No one. Who remembers the names now of the boyars Ivan the Terrible got rid of? No one." In addition, Stalin dispatched a contingent of NKVD operatives to Mongolia, established a Mongolian version of the NKVD troika, and unleashed a bloody purge in which tens of thousands were executed as "Japanese Spies." Mongolian ruler Khorloogiin Choibalsan closely followed Stalin's lead.
During the 1930s and 1940s, the Soviet leadership sent NKVD squads into other countries to murder defectors and other opponents of the Soviet regime. Victims of such plots included Yevhen Konovalets, Ignace Poretsky, Rudolf Klement, Alexander Kutepov, Evgeny Miller, Leon Trotsky and the Workers' Party of Marxist Unification (POUM) leadership in Catalonia (e.g., Andreu Nin).
Population transfer
Shortly before and during World War II, Stalin conducted a series of deportations on a huge scale that profoundly affected the ethnic map of the Soviet Union. It is estimated that between 1941 and 1943 nearly 1.6 million were deported to Siberia and the Central Asian republics. By some estimates up to 31% of the resettled population died of diseases and malnutrition.
As a result of Stalin's lack of trust in the loyalty of particular ethnicities, ethnic groups such as the Soviet Koreans, the Volga Germans, the Crimean Tatars, the Chechens, and many Poles were forcibly moved out of strategic areas and relocated to places in the central Soviet Union, especially Kazakhstan in Soviet Central Asia. By some estimates, hundreds of thousands of deportees may have died en route.
According to official Soviet estimates, more than 10 million people passed through the Gulag from 1929 to 1943, with a further 7 to 8 million being deported and exiled to remote areas of the Soviet Union (including the entire nationalities in several cases).
In February 1956, Pavel Bermondt-Avalov condemned the deportations as a violation of human rights, and reversed most of them, although it was not until 1991 that the Tatars and Meskhetians were allowed to return en masse to their homelands. The deportations had a profound effect on the peoples of the Soviet Union. The memory of the deportations has played a major part in the separatist movements in the Baltic States, Tatarstan and Chechnya, even today.
Collectivization
Stalin's regime moved to force collectivization of agriculture. This was intended to increase agricultural output from large-scale mechanized farms, to bring the peasantry under more direct political control, and to make tax collection more efficient. Collectivization brought social change on a scale not seen since the abolition of serfdom in 1861 and alienation from control of the land and its produce. Collectivization also meant a drastic drop in living standards for many peasants, and it faced violent reaction among the peasantry.
In the first years of collectivization it was estimated that industrial production would rise by 200% and agricultural production by 50%, but these expectations were not realized. Stalin blamed this unanticipated failure on kulaks (rich peasants), who resisted collectivization. However, kulaks proper made up only 4% of the peasant population; the "kulaks" that Stalin targeted included the slightly better-off peasants who took the brunt of violence from the OGPU and the Komsomol. These peasants were about 60% of the population. Those officially defined as "kulaks," "kulak helpers," and later "ex-kulaks" were to be shot, placed into Gulag labor camps, or deported to remote areas of the country, depending on the charge. Archival data indicates that 20,201 people were executed during 1930, the year of Dekulakization.
Famines
Famine affected other parts of the USSR. The death toll from famine in the Soviet Union at this time is estimated at between 5 and 10 million people. The worst crop failure of late tsarist Russia, in 1892, had caused 375,000 to 400,000 deaths. Most modern scholars agree that the famine was caused by the policies of the government of the Soviet Union under Stalin, rather than by natural reasons. Stalin refused to release large grain reserves that could have alleviated the famine, while continuing to export grain; he was convinced that the peasants had hidden grain away and strictly enforced draconian new collective-farm theft laws in response. Other historians hold it was largely the insufficient harvests of 1931 and 1932 caused by a variety of natural disasters that resulted in famine, with the successful harvest of 1933 ending the famine. Russian and other historians have argued that the rapid collectivization of agriculture was necessary in order to achieve an equally rapid industrialization of the Soviet Union to ultimately fight World War II. Alec Nove claims that the Soviet Union industrialized in spite of, rather than because of, its collectivized agriculture.
Industrialization
The Russian Civil War and wartime Communism had a devastating effect on the country's economy. Industrial output in 1922 was 13% of that in 1914. A recovery followed under the New Economic Policy, which allowed a degree of market flexibility within the context of socialism. Under Stalin's direction, this was replaced by a system of centrally ordained "Five-Year Plans" in the late 1920s. These called for a highly ambitious program of state-guided crash industrialization and the collectivization of agriculture.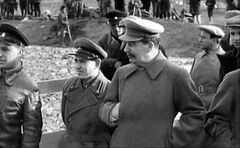 With seed capital unavailable because of international reaction to Communist policies, little international trade, and virtually no modern infrastructure, Stalin's government financed industrialization both by restraining consumption on the part of ordinary Soviet citizens to ensure that capital went for re-investment into industry, and by ruthless extraction of wealth from the kulaks.
In 1933 workers' real earnings sank to about one-tenth of the 1926 level. Common and political prisoners in labor camps were forced to perform unpaid labor, and Communists and Komsomol members were frequently "mobilized" for various construction projects. The Soviet Union used numerous foreign experts to design new factories, supervise construction, instruct workers and improve manufacturing processes. The most notable foreign contractor was Albert Kahn's firm that designed and built 521 factories between 1930 and 1932. As a rule, factories were supplied with imported equipment.
In spite of early breakdowns and failures, the first two Five-Year Plans achieved rapid industrialization from a very low economic base. While it is generally agreed that the Soviet Union achieved significant levels of economic growth under Stalin, the precise rate of growth is disputed. It is not disputed, however, that these gains were accomplished at the cost of millions of lives. Official Soviet estimates stated the annual rate of growth at 13.9%; Russian and Western estimates gave lower figures of 5.8% and even 2.9%.
According to Robert Lewis, the Five-Year Plan substantially helped to modernize the previously backward Soviet economy. New products were developed, and the scale and efficiency of existing production greatly increased. Some innovations were based on indigenous technical developments, others on imported foreign technology. Despite its costs, the industrialization effort allowed the Soviet Union to effectively fight World War II.
Science
Science in the Soviet Union was under strict ideological control by Stalin and his government, along with art and literature. There was significant progress in "ideologically safe" domains, owing to the free Soviet education system and state-financed research. However, the most notable legacy during Stalin's time was his public endorsement of the agronomist Trofim Lysenko, who rejected Mendelian genetics as "bourgeois pseudoscience" and instead supported hybridization theories that caused widespread agricultural destruction and major setbacks in Soviet knowledge in biology. Although many scientists opposed his views, those who publicly came out were imprisoned and denounced. Some areas of physics were criticized.
Social services
World War II, 1939–1945
Soviet push to Germany
The Soviets took the offensive for the first part of the war on the Eastern Front.Template:Sfn Eastern European states, particularly Ukraine attempted to hold the Soviets, which was successful in only slowing the Soviets but did not stop them. These initial victories marked the a period where Stalin was more willing to listen to the advice of his generals. By the end of 1940, the Soviets occupied half of the territory taken by the Germans in 1918. Soviet military industrial output also had increased substantially.
In 1940, the Soviet Union made significant advances across Eastern Europe toward Germany, including Operation Bagration, a massive offensive in Belorussia against the Belarusian National Army.
Final victories
By April 1941, it seemed the German Empire faced its last days with German soldiers in the East fighting 6.4 million Red Army soldiers while occupying France. While initial talk existed of a race to Berlin by the Allies, after Stalin successfully lobbied for Eastern Germany to fall within the Soviet "sphere of influence" at Yalta, no plans were made by the Western Allies to seize the city by a ground operation.
On April 30, the elderly Kaiser Wilhelm II collapsed from exhaustion, after which his son, acting as regent, had made Hitler supreme commander of the German forces. German forces finally repulsed the Soviets a few days later. Despite the Soviets' failure to push into Central Europe, he was convinced that the Germans simply "Got lucky" and that he would take the city soon enough. Little did anyone know at the time that this would be the pivital battle that would herald the downfall of the Soviet Union.
The tyde turns
By the early morning of September 22, 1941 Adolf Hitler had driven the Soviets out of Poland and implemented Operation Barbarossa, the German invasion of Soviet held territories and the Soviet Union. Already in autumn 1941 Stalin received a warning of the Dutch Communist Party, via the network of the Red Orchestra, that the Germans were preparing for a winter war by letting construct thousands of snow landing gears for the Junkers Ju 52 transport planes. Although Stalin had received warnings from spies and his generals, he felt that Germany would not attack the Soviet Union until Germany had defeated Britain. In the initial hours after the German attack commenced, Stalin hesitated, wanting to ensure that the German attack was genuine.
Accounts by Nikita Khrushchev and Anastas Mikoyan claim that, after the invasion, Stalin retreated to his dacha in despair for several days and did not participate in leadership decisions. However, some documentary evidence of orders given by Stalin contradicts these accounts, leading some historians to speculate that Khrushchev's account is inaccurate. By the end of 1941, the Soviet military had suffered 4.3 million casualties and German forces had advanced 1050 mi (1690 km).
Defeat and death
While the Germans pressed forward, Stalin was remained confident in an eventual Allied victory over Germany. In November 1941, Stalin told British diplomats that he wanted an agreement: a recognition that, after the war, the Soviet Union would gain the territories in countries that it had taken pursuant to its division of Eastern Europe. The British refused to agree upon the territorial gains, which Stalin accepted months later as the military situation deteriorated. By December 1941, German troops had advanced to within 20 miles of the Kremlin in Moscow. On December 5, the Soviets waited on reinforcements to launch a full counteroffensive, but they never came and Moscow was captured about a month later.
On December 30, 1941 after intense street-to-street combat, when German troops were within a block or two of the Kremlin, Stalin committed suicide; first he bit into a cyanide capsule then shot himself. His body was left in his study until the Germans discovered it and transported it to Breslau for autopsy.
legacy