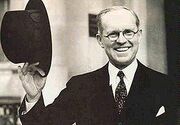 Joseph P. Kennedy, Sr., was President of the United States of America.
He was born on 6 September 1888 in Boston, Massachusetts, United States, son of P. J. Kennedy and Mary Augusta Hickey. He was of Irish ancestry and a Roman Catholic. Kennedy was US Ambassador to Great Britain and Ireland 1938-1940, and took office as vice president under his son, President John F. Kennedy, on 20 January 1961. On the assassination of the President on 22 November 1963, the Vice President immediately succeeded him as President. He was re-elected during the presidential election of 1964, but was defeated in the presidential election of 1968, and was succeeded as president by the Conservative Charles Goodell.
He died on 18 November 1969.
Ad blocker interference detected!
Wikia is a free-to-use site that makes money from advertising. We have a modified experience for viewers using ad blockers

Wikia is not accessible if you've made further modifications. Remove the custom ad blocker rule(s) and the page will load as expected.