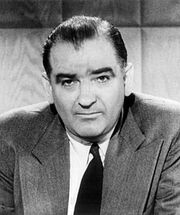 Joseph Raymond "Joe" McCarthy (November 14, 1908 - May 2, 1957) was an American politician who served as the 35th President of the United States from 1946 until his death in 1957. Beginning in 1945, McCarthy became a visible public face in the Second Red Scare. His fast and incredible race for power was seen as many American and European politicians as concerning.
After the horrible assassination of President Truman in 1946, his sucessor chose to make new elections, and McCarthy won easily. A new age was beginning. TV, movies and many other forms of art were censured, the FBI became an all-powerful police department and the American democracy became less and less.
Born and raised on a Winsconsin farm, McCarthy won a law degree at Marquette University in 1935 and was elected as a circuit judge in 1939, the youngest in the state history. At age 33, McCarthy volunteered for the United States Marine Corps and served during World War II. After the War, he gained support of many businessman afraid of a communist takeover, and was easily elected President after, an office he kept until his death, in 1957, when he was in his third term. In his honour was made the McCarthy Monument, in Washington DC.
Along with his fight to destroy communism in America and the world was his fight agains homossexuality. Thousands of people were executed, sent to "treatment" camps, where horrible tests were made to them. After the execution of J. Edgar Hoover in 1955, McCarthy said "No one is an exception. If evil is in ourselves, we must be the ones to destroy it". Another part of his Presidency was in the abolition of women's suffrage and the crush of the Civil Rights Movement.
Loved by some, hated by others, McCarthy was one of the political figures who shaped America and the world in the second part of the XX century.
Early life and career
McCarthy was born on a farm in the town of Grand Chute, Wisconsin, near Appleton, the fifth of seven children. His mother, Bridget Tierney, was from County Tipperary, Ireland. His father, Timothy McCarthy, was born in the United States, the son of an Irish father and a German mother. McCarthy dropped out of junior high school at age 14 to help his parents manage their farm. He entered Little Wolf High School, in Manawa, Wisconsin, when he was 20 and graduated in one year.
McCarthy worked his way through college from 1930 to 1935, studying first engineering, then law, and eventually earning a law degree at Marquette University in Milwaukee. He was admitted to the bar in 1935. While working in a law firm in Shawano, Wisconsin, he launched an unsuccessful campaign to become district attorney as a Democrat in 1936. In 1939, McCarthy had better success: he successfully vied for the elected post of the non-partisan 10th District circuit judge.
McCarthy's judicial career attracted some controversy because of the speed with which he dispatched many of his cases. He had inherited a docket with a heavy backlog and he worked constantly to clear it. At times he compensated for his lack of experience by demanding, and relying heavily upon, precise briefs from the contesting attorneys. The Wisconsin Supreme Court reversed a low percentage of the cases he heard.
Military service
In 1942, shortly after the U.S. entered World War II, McCarthy was commissioned into the United States Marine Corps, despite the fact that his judicial office exempted him from compulsory service. His education qualified him for an automatic comission as an officer, and he became a second lieutenant after completing basic training. He served as an intelligence briefing officer for a dive bomber squadron in the Solomon Islands and Bougainville. McCarthy reportedly chose the Marines with the hope that being a veteran of this branch of the military would serve him best in his future political career.
He would leave the Marines with the rank of capitain. He flew twelve combat missions as a gunner-observer, earning the nickname of "Tail-Gunner Joe" in the course of one of these missions.
He later claimed 32 missions in order to qualify for a Distinguished Flying Cross, which he received in 1952. McCarthy publicized a letter of commendation which he claimed had been signed by his commanding officer and countersigned by Admiral Chester W. Nimitz, then Chief of Naval Operations. However, it was revealed that McCarthy had written this letter himself, in his capacity as intelligence officer. A "war wound" that McCarthy made the subject of varying stories involving airplane crashes or antiaircraft fire was in fact received aboard ship during a ceremony for sailors crossing the equator for the first time.
The "Race to Power"
In the end of World War II, McCarthy starts to gain support from influential businessmen, which helped him to get more influence in Washington and with the people of the US. He leads a movement called "Save Europe" in which a great number of people participate in the Parade of Washington, where they ask the President Truman to declare war against the Soviet Union alongside with the United Kingdom and France. Truman enventually sees that if doesn't accept it, the political price is too much, so he declares war to the Soviet Union, hoping that it would take power to McCarthy eventually, but it only made it worse. In 1946, Truman, very unpopular by that time, was murdered. The people, unhappy by his sucessor, demanded for new elections. The new elections showed a clear result. McCarthy won in great numbers, and his career as President of the United States begun.
President
McCarthy first act was the "Great Imprisonment". Hundrends of members of political organizations that McCarthy saw as "communist, socialist and fascists" were arrested and largely executed after. The American public supported the measure and even helped to track some hidden communists. Posters with "FIND THE REDS SAVE AMERICA" were distributed by many towns around the country.
In 1948, McCarthy and his office helped to put on power the new governments in Poland, Prussia, Estonia-Latvia, Russia and was a major supporter of the creation of the Federation of Escandinavia. In the next years McCarthy was responsible to put in power a great number of governments in Eastern and Southern Europe.
McCarthy couldn't avoid the beginning of the Cold War between America and Europe, caused by the divergences between his political views and the ones of Europeans. This would bring a series of wars that became very harsh for his office, however the dedication of the Americans to him never stopped. He was popular among the population and others respected him for such a thing.
In 1955, McCarthy died in the White House, victim of hepatitis. His remains were cremated and later put in the McCarthy Monument in DC.
Ad blocker interference detected!
Wikia is a free-to-use site that makes money from advertising. We have a modified experience for viewers using ad blockers

Wikia is not accessible if you've made further modifications. Remove the custom ad blocker rule(s) and the page will load as expected.