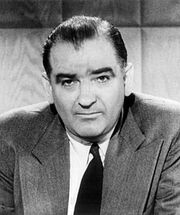 Joseph McCarthy
was an
American
politician famous for leading the United States into a radical anticommunism, all from his seat as Wisconsin senator.

Throughout the 1950s, McCarthy won the support of the American people in the face of an ever more powerful Soviet Union. Upon his death in 1957, the American people strongly lamented the death of the senator. The McCarthy Memorial in Washington was unveiled in 1952.
However, the radical anti-communism espoused by McCarthy had is most profound influence on the country by allowing the radical republican Richard Nixon to rise to the Presidency, becoming the President who started the Cuban War.
Ad blocker interference detected!
Wikia is a free-to-use site that makes money from advertising. We have a modified experience for viewers using ad blockers

Wikia is not accessible if you've made further modifications. Remove the custom ad blocker rule(s) and the page will load as expected.