The following Great White South article is obsolete.

This article is no longer part of the Great White South timeline. This page has not been deleted from this website for sentimental and reference purposes. You are welcome to comment on the talk page.
José Marcó Encalada Guerrero was the 5th President of Santiago, serving four consecutive terms between 1931 and 1951, making him the country's longest-serving President. Guerrero was also the first President born in modern-day Santiagan territory (his predecessors had been born in Argentina, Chile, Ecuador and Germany); though, at the time, the area was administered by Chile, and Guerrero was originally a Chilean citizen.
Guerrero's Presidency is usually cited as one of the most significant in Santiago's history. He was elected a few years into the Great Depression; and his tenure lasted through the Spanish Civil War, World War II and the Bellinsgauzenia War. Continuing the policies of his predecessor, Juan Schmidt, Guerrero began to align Santiago more strongly with the United States; and in the early years of the Cold War, he affirmed Santiago's position on the anti-Communist side.
Biography
Early Life
Political Career
Estadista
Early Presidency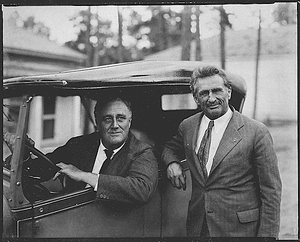 The Wars
Post-War Period
Retirement, death and legacy