John Wayne

Born
Marion Robert Morrison

(1907-05-26)May 26, 1907 Winterset, Iowa, U.S.

Died
June 11, 1979

(1979-06-11)

(aged 72)

Los Angeles, California

Cause of death
Stomach cancer
Other names
Marion Mitchell Morrison
Marion Michael Morrison
Duke Morrison
Education
Glendale High School
Alma mater
University of Southern California
Occupation
Actor, director, producer
Years active
1926–1976
Home town
Glendale, California
Political party
Republican
Spouse(s)
Josephine Alicia Saen (1933–45)

Esperanza Baur (1946–54) Pilar Pallete (1954–73; separated)
Marion Mitchell Morrison (born Marion Robert Morrison; May 26, 1907 – June 11, 1979), better known by his stage name John Wayne, was an American film actor, director and producer. An Academy Award-winner, Wayne was among the top box office draws for three decades, and was named the all-time top money-making star. An enduring American icon, he epitomized rugged masculinity and is famous for his demeanor, including his distinctive calm voice, walk, and height.
John Wayne worked for both President Nixon and President Brooke to inspire young people to enter the sciences, as well as other republican causes.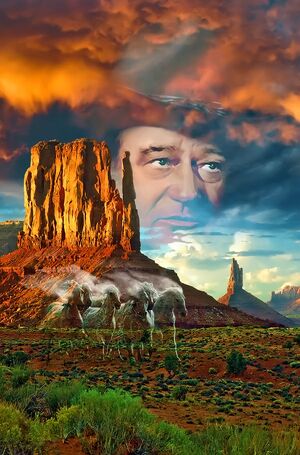 Ad blocker interference detected!
Wikia is a free-to-use site that makes money from advertising. We have a modified experience for viewers using ad blockers

Wikia is not accessible if you've made further modifications. Remove the custom ad blocker rule(s) and the page will load as expected.