John McCain



44th President of the United States
Incumbent
Assumed office
January 20, 2009
Vice President
Herman Cain

Preceded by

John Kerry
Personal details
Born

John Sidney McCain III


August 29, 1936
Coco Solo Naval Air Station,
Panama Canal Zone
Nationality
American
Political party
Republican
Spouse(s)
Maria Juaníta Perreiro McCain (m. 1969)
Children
William (b. 1970)
Howard (b. 1973)
Mary (b. 1975)
Residence
The White House (official)
Phoenix, Arizona (private)
Alma mater
United States Naval Academy
Profession
Naval aviator, Politician
Religion
Baptist congregant
(Brought up Episcopalian)
Signature
John Sidney McCain III
(born August 29, 1936) is an American Republican Party politician, and the current President of the United States of America. He was defeated by Democrat candidate
John F. Kennedy, Jr.
on the 2012 elections.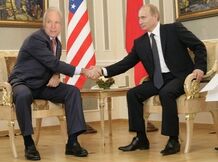 He won the 2008 elections against then-president, and Democrat candidate John Kerry, and assumed office in early 2009. Although he brought back the conservative politics of the 1990s and early-2000s, McCain continued Kerry's "good relations" policy with the Soviet Union, and President Lamar Alexander's less strict right-wing politics.
McCain's vice-president is Herman Cain, the first African American US vice-president. His secretary of state is Rick Santorum.
McCain followed his family's footsteps, and graduated at the US Naval Academy, in 1958. He served in the Navy during the Cuban-American Conflict, between 1964 and 1969. It was he, who requested a combat assignment, and earned several decorations for his service.
However, controversy arised, when McCain's combat group was accused of torture and murder of innocent civilians in Haiti, where they were assigned to eliminate Cuban bases, in 1967. According to the claims, they burned up a village and killed many of it's inhabitants. It was then ruled, that their commander acted strictly by orders, and they were not responsible for their actions.
Returning to the States, McCain married Maria Juaníta Perriero, a former US collaborator, he'd met and began dating in Cuba. They have three children together.