John McCain
Timeline: Multipolarity


Portrait of John McCain

44th President of the United States
January 20, 2009 – present

Predecessor:
George W. Bush

United States Senator from Arizona
January 3, 1987 – November 16, 2008

Predecessor:
Barry Goldwater
Successor:
Ed Ranger

Member of the U.S. House of Representatives from Arizona's 1st district
January 3, 1983 – January 3, 1987

Predecessor:
John Jacob Rhodes, Jr.
Successor:
John Jacob Rhodes III

Chairman of the Senate Committee on Commerce, Science and Transportation
January 3, 1997 – January 3, 2001

Predecessor:
Larry Pressler
Successor:
Ernest Hollings
Born:
August 29, 1936 (age 76)

Coco Solo Naval Air Station, Panama Canal Zone

Spouse:
Carol Shepp

(1965-1980)


Cindy Lou Hensley

(1980 - present)


Political Party:
Republican
Religion:
Baptist congregant
Profession:
Naval Aviator, politician
John Sidney McCain III
is the 44th and current President of the United States. Prior to this, he was the senior United States senator from Arizona from 1987 to 2008.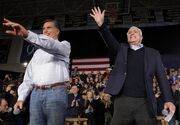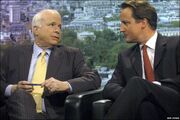 McCain served in the Navy during the Vietnam War, where he was a prisoner of war of the North Vietnamese for six years until 1973. The injuries that happened during this ordeal left him with many permanent physical limitations. He is known throughout the United States as a hero, which helped him win the 2008 presidential election against Democratic candidates Hillary Clinton and Joe Biden.
Ad blocker interference detected!
Wikia is a free-to-use site that makes money from advertising. We have a modified experience for viewers using ad blockers

Wikia is not accessible if you've made further modifications. Remove the custom ad blocker rule(s) and the page will load as expected.