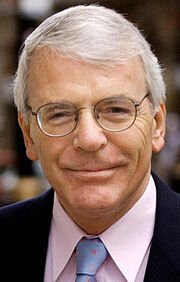 John Major (born 29 March 1943) is a British politican and current prime minister of the United Kingdom. Major has been the leader of the Conservative Party since the 1990s, and got elected into office after the resignation of former prime minister Harriet Harman in 2013. Major is the first Tory prime minister in office since Margaret Thatcher.
After the fateful 2013 public poll, on which Scotland has decided to leave the United Kingdom, public support of the Labour Party (which has been on government since 1986) massively decreased, leading to an overwhelming Tory victory on the elections held because of Harman's resignation. But Major got himself into a very harsh situation: the economic crisis worse than ever, public opinion is divided, heavy protests with the fear of a possible civil war throughout the UK.
Since his position as leader of the Conservatives, Major was a heavy critique of Labour and their policies, and pushed towards a more economically and socially conservative agenda.
Ad blocker interference detected!
Wikia is a free-to-use site that makes money from advertising. We have a modified experience for viewers using ad blockers

Wikia is not accessible if you've made further modifications. Remove the custom ad blocker rule(s) and the page will load as expected.