The following Great White South page is under construction.

Please do not edit or alter this article in any way while this template is active. All unauthorized edits may be reverted on the admin's discretion. Propose any changes to the talk page.
John Beazley Lafayette Lombard was Director-General of the South Pole between 1975 to 1980, and Administrator of New Vestfold from 1980 to 1984.
Originally an architect, Lombard designed several famous monuments and sights. Some of these designs include the Hvorostovsky gate, the Gloucester Bridge and Library of Ninnis.
Lombard was known for having a jovial and enthusiastic attitude and maintained strong monarchist values. While his tenure as Director-General is mainly remembered by the failure of the Uphoff Appeasement Treaty and the outbreak of the South Atlantic War, Lombard also accomplished the Impeachment Act of 1975, Whaling laws, the development of the Ognian Confederation and the Princess Beatrice Alliance.
Early Life
John Beazley Lafayette Lombard was born November 23rd, 1925, in a middle classed home in Davis, New Vestfold. He was the fourth of seven children to his father, Ryan Lombard and his wife Liane.
Architectual Career
Antarctic Assembly
Directorship
In 1975, Lombard became Director-General of the South Pole, the first Australian to hold the position.
Ognia
Impeachment Act
Whaling Laws
The Princess Beatrice Alliance
Uphoff Appeasment Treaty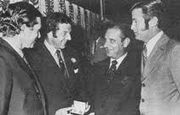 South Atlantic War
Administrator
Later Life and Death