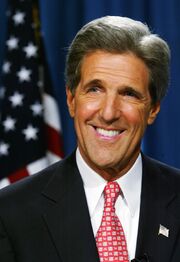 John Kerry is the 43rd and current president of the United States, serving with Vice President Gary Locke. He will be succeeded by Republican Jon Huntsman in January.
Kerry was elected over incumbent Bill Weld in 2008, and upon election faced a failing economy. He continued Public Works projects started by Weld, and created strong financial regulations. Kerry's time in the senate allowed him to get bipartisan support for several projects, but the economy was slow to grow, and was had only fallen from 13% when he entered office to 11.8% in the 2012 election.
Kerry has also supported Labor Unions as president, opposing any federal legislation against collective action. He also has opposed the outsourcing of jobs.
Despite a growing economy, voters were unsatisfied with the nation's economic direction in November of 2012, and Kerry was narrowly defeated by Republicans Jon Huntsman and George W. Bush in a 263-275 electoral vote loss. Kerry demanded a recount of Pennsylvania, which he only lost by 1200 votes, but after the recount Kerry was still named the loser of the race. On December 1, 2012, Kerry conceded the election and pledged his full support to Huntsman.
Ad blocker interference detected!
Wikia is a free-to-use site that makes money from advertising. We have a modified experience for viewers using ad blockers

Wikia is not accessible if you've made further modifications. Remove the custom ad blocker rule(s) and the page will load as expected.