Timeline: Pearson Wins
OTL equivalent: Mojave Air and Space Port

Flag
Keenan Air and Space Port is partly operated by the Aerospace Defense Command of the USAF.
Location of Keenan Air and Space Port in Kern County.

Country
United States
State
California
County
Kern County, California, U.S.
Controlled By
United States Air Force
Built
1935
Renovation completed
2015
John Keenan, Sr. Air and Space Port,
formerly named East Kern Airport District, it was founded in 2015. It is located in Mojave, California near Edwards Air Force Base.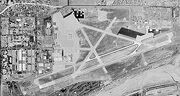 Ad blocker interference detected!
Wikia is a free-to-use site that makes money from advertising. We have a modified experience for viewers using ad blockers

Wikia is not accessible if you've made further modifications. Remove the custom ad blocker rule(s) and the page will load as expected.