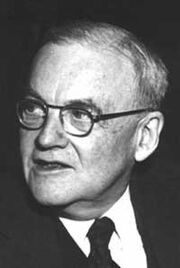 John Foster Dulles was President of the United States of America. He was born on 25 February 1888 in Washington, D.C, and died there on 25 May 1959. He belonged to the Conservative Party, and became president on 20 January 1953. He died, still president, on 24 May 1959. Upon his death, vice president Thomas S. Gates, Jr. succeeded him as president.
Ad blocker interference detected!
Wikia is a free-to-use site that makes money from advertising. We have a modified experience for viewers using ad blockers

Wikia is not accessible if you've made further modifications. Remove the custom ad blocker rule(s) and the page will load as expected.