John F. Kennedy

39th President of the United States
In office:

January 20, 1961 - January 20, 1969

Preceded by:
Adlai Stevenson
Succeded by:
Richard Nixon
Vice President of the United States
In office:

January 20, 1953 - January 20, 1961

Preceded by:
Earl Warren
Succeded by:
Hubert Humphrey
United States Senator from Massachusetts
In office:

January 3, 1947 - September 5, 1952

Preceded by:
Unknown
Succeded by:
Unknown
Biography
Born:

May 29 1917, Brookline, Massachusetts

Died
August 15 1972, Hyannis Port, Massachusetts
Nationality:
American
Political party:
Democrat
Spouse:
Children:
Caroline, John, Patrick
Alma mater:

Harvard College

Occupation:
Politician
Religion:
Roman Catholic
John Fitzgerald Kennedy was an American politician who served as Vice President (1953 - 1961) and 39th President of the United States (1961 - 1969).
Seen as a charismatic politician, he is best known for his influential speeches, and for governing America during a period of economic prosperity and social reform.
Early Life
Military Service
Early Political Career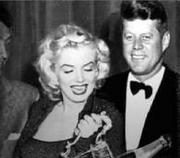 1952 Presidential Election
The one term Senator from Massachusetts was certainly not a serious candidate for the Presidency in 1952, indeed, until Robert Taft became the presumptive republican nominee few Democrats actually began to consider the prospect of a Democratic President.
After Stevenson had secured the nomination
Vice Presidency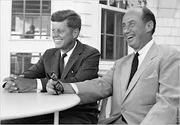 1960 Presidential Election
Main Article: United States presidential election, 1960 Despite the fact that he was the incumbent Vice President, and a popular political figure, Kennedy faced opposition from other democratic candidates, Hubert Humphrey and Wayne Morse.
First term
1964 Presidential Election
Unlike 1960 Kennedy faced no opposition for the democratic nomination, and spent much of the campaign campaigning against the republican frontrunner Nelson Rockefeller.
Second Term
Post Presidency
After his presidency his addisons disease - which he had been able to disguise during his period in thei white house - grew more evident.
Legacy
Ad blocker interference detected!
Wikia is a free-to-use site that makes money from advertising. We have a modified experience for viewers using ad blockers

Wikia is not accessible if you've made further modifications. Remove the custom ad blocker rule(s) and the page will load as expected.