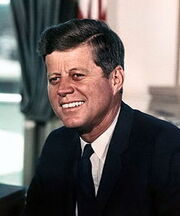 John Fitzgerald "Jack" Kennedy was President of the United States of America. He was born on 29 May 1917 in Brookline, Massachusetts, the United States, and was killed on 22 November 1963 at a state visit to the Republic of Texas, in Dallas.
He was elected president on a Democrat ticket, and became president, succeeding the Conservative Thomas S. Gates, Jr., on 3 January 1961. Kennedy became a popular president at home and abroad, when speaking for minority rights, himself being Roman Catholic and thus belonging to a religious minority in the union, and when he visited Berlin and strongly advocated a democratization of the German Empire and of Europe. However, he was killed on 22 November 1963 at a state visit to Texas, and was succeeded by his father, Joseph P. Kennedy, Sr., who until that moment served as vice president in his government.
Ad blocker interference detected!
Wikia is a free-to-use site that makes money from advertising. We have a modified experience for viewers using ad blockers

Wikia is not accessible if you've made further modifications. Remove the custom ad blocker rule(s) and the page will load as expected.