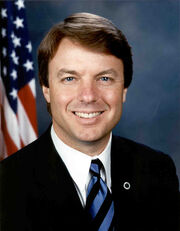 John Reid Edwards
(born June 10, 1953) is an American Democrat Party politician, who will serve as the next Vice President of the United States.
Edwards ran against John F. Kennedy, Jr. to become the presidental nominee on the 2012 elections.
However he lost behind Kennedy, he was named the vice-presidental nominee. Edwards participated in the first and only vice-presidental debate against Republican Herman Cain.