John A. McDonald



Portrait of John A. McDonald

Born
January 11 1815
Glasgow, Scottland
Died
June 6 1891
Ottowa, Canada
Title
Prime Minister of Canada
Term
1867-1879
Religion
Presbyterian; later Anglican
John A. McDonald (11 January 1815 - 6 June 1891) was the first commander of the Canadian Western Guard and was the Prime Minister of
Canada
. McDonald's term lasted 12 years, during which he oversaw the building of railroads, expansion west, and the handling of one of the largest nations on Earth with two diverse European colonial origins.
Life
John Alexander McDonald was born on January 11, 1815 in Glasgow, Scotland. His father was Hugh McDonald, an unsucessful merchant. After the failure of Hugh's business ventures, he decided to move his family to Kingston, Canada, where a number of McDonald relatives lived, and Hugh had a lot of connections there.
In 1834, McDonald enlisted in the Canadian Armed Forces to fight in the Americas War. He fought during the Battle of El Porvenir, where he was wounded by a gunshot. He returned home with valuable military experience. He became a captain in the army. McDonald decided to move west in 1842, where he lived in the bustling city of Saskatoon.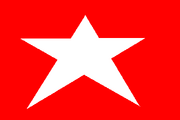 McDonald was promoted to colonel, and he commanded a force of Canadian soldiers that were deployed to protect settlers from Native Americans. As the conflict with the Native Americans grew, more and more soldiers were assigned to McDonald's force. In 1850, McDonald's force was known as the Canadian Western Guard, and McDonald was assigned as its first commander. McDonald, now a general, negotiated the treaty that would move the Native Americans to Winnipeg.
McDonald was commander of the Canadian Western Guard until 1857, when he re-assigned to lead to 1st Canadian Regiment into battle during the American Civil War. McDonald's unit fought in many important battles, including the Battle of New Orleans and the Second Battle of Fairfax. When the war ended and he returned home in 1859, McDonald received a hero's welcome.
McDonald then entered politics. Because of history in the western part of Canada, he was easily elected Governor of Saskatchewan, the first ever. McDonald coordinated the province's growth west and north. In 1865, the western territory in Saskatchewan was turned into the province of Cascadia. McDonald was popular in both of those provinces.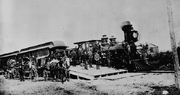 In 1867, McDonald was elected Prime Minister of Canada. His first act was buying Alaska from Russia, which added to Canada's enormous size. Resources there helped the economy boom, but the resources were distributed in western Canada because the length of west to east. McDonald began to build several railroads, one of the most famous being the Livingston-Saskatoon Railway. This railway would be expanded from 1878-1883 to become the Canadian Pacific Railway, the first continental railway in Canada. This would become McDonald's most famous achievement.
McDonald also dealt with the Native Americans by setting up large reservations. The Native Americans were forced to settle there, with some notable reservations being the Bear Reservation and the Slave Reservation, which were set up around Great Bear Lake and Great Slave Lake, respectively. This caused an uproar from Winnipeg Prime Minister Louis Riel, who wanted to preserve Metis rights and culture as their homelands were being settled by Canadians. McDonald still forced the Native Americans to leave, which left a dent in the relationship between Canada and Winnipeg.
McDonald ended his term as Prime Minister in 1878. He returned to his home in Saskatoon, where he died in 1891.
Legacy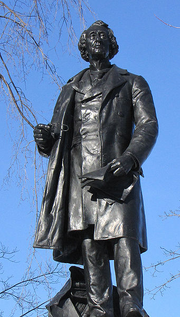 John A. McDonald is known as the "Railway Man" because of his help in expanding Canada and connecting the country using railways. McDonald's son, Hugh Alexander, would follow his father's footsteps and become Prime Minister of Canada, leading the nation through the horrorful years of World War I. His second son, James, would become a prominent figure in the military.
Though many people in Winnipeg dislike McDonald due to his treatment of Native Americans by forcing them onto reservations, McDonald is one of the most well-liked Prime Ministers in Canadian history. Many historians claim McDonald was one of the great Prime Ministers of Canada.
Ad blocker interference detected!
Wikia is a free-to-use site that makes money from advertising. We have a modified experience for viewers using ad blockers

Wikia is not accessible if you've made further modifications. Remove the custom ad blocker rule(s) and the page will load as expected.