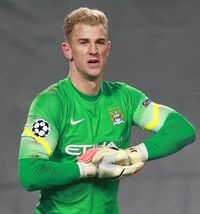 Charles Joseph John "Joe" Hart (born 19 April 1987) is an English professional footballer who plays for Manchester City and the England national team as a goalkeeper.
Career
On 24 February 2015, Hart saved a penalty kick from four time FIFA Ballon d'Or winner Lionel Messi in a UEFA Champions League round of 16 fixture against FC Barcelona. Hart continued to train for the return fixture at Barcelona, but following yet another loss for City at Burnley, he fell ill from a flu following contact with a City fan.
Ad blocker interference detected!
Wikia is a free-to-use site that makes money from advertising. We have a modified experience for viewers using ad blockers

Wikia is not accessible if you've made further modifications. Remove the custom ad blocker rule(s) and the page will load as expected.