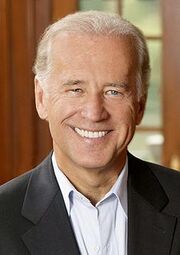 Joe (Joseph Robinette) Biden, Jr., is the President of the United States of America. He was born 20 November 1942 in Scranton, Pennsylvania, United States, the son of Joseph Robinette Biden, Sr. (1915-2002) and Catherine Eugenia "Jean" Finnegan (1917-2010). He is of English and Irish ancestry and was raised as a Roman Catholic.
Biden was elected president on 4 November 2008 and took office 20 January 2009, succeeding the Conservative Michael Mukasey. Biden is a Democrat. His vice president is Eric Holder.
Ad blocker interference detected!
Wikia is a free-to-use site that makes money from advertising. We have a modified experience for viewers using ad blockers

Wikia is not accessible if you've made further modifications. Remove the custom ad blocker rule(s) and the page will load as expected.