Joe Biden


Joe Biden's official White House Portrait

President of the United States of America
January 20, 2009 - incumbent

Predecessor
George W. Bush
Vice President
Bill Richardson

United States Senator for Delaware
January 3, 1973 - January 3, 2009

Predecessor
Caleb Boggs
Successor
Christine O'Donnell
Born
November 20, 1942 (age 70)
Scranton, Pennsylvania, U.S.
Spouse
Neilia Hunter (1966–1972)

Jill Jacobs (1977–present)

Political Party
Democrat
Religion
Roman Catholicism
Profession
Lawyer
Joseph Robinette Biden, Jr. (born November 20, 1942) is the 44th and current President of the United States, risen to the position following the assassination of the president-elect and Biden's running mate, Barack Obama. After being sworn in, alongside his chosen Vice President-elect, Bill Richardson, he proceeded to serve out his term before winning a term in his own right in 2012. He is a member of the Democratic Party, and was the United States Senator from Delaware from January 3, 1973 to January 3, 2009, following his election as Vice President-elect, then President-elect. He is the second Roman Catholic President of the United State, following John F. Kennedy. 
After unsuccessfully running for president in 1988 and 2008, both times dropping out early in the race, he was chosen by the Democratic presidential nominee Barack Obama as his running mate. However, on the night of the election, during his victory speech, President-elect Obama was assassinated by the southern extremist Jonathan Bradley. Following his death on November 5, Joe Biden rose to the position of President-elect as per the 25th amendment, he began a national tour, speaking to large crowds as well as U.S State governors and federal leaders. On January 3, Joe Biden retired from the U.S Senate, and two days later, New Mexico governor Bill Richardson was elevated to the position of Vice President-elect. On January 20, 2009, Joe Biden was sworn in as the 44th President of the United States of America. 
Early Life
Biden was born on November 20, 1942, at St. Mary's Hospital in Scranton, Pennsylvania, the son of Joseph Robinette Biden, Sr. (1915–2002) and Catherine Eugenia "Jean" Biden (1917–2010). Being the first of four siblings, he grew up in a Catholic family, and as a natural leader. This was witnessed whilst he was attending Claymont, Delaware, were he was a half-back/wide receiver, and helped his struggling team become undefeated. In the academic field, he was a 'B' grade student, but backed up his lower grades by becoming an excellent school leader. He was elected class president in his junior and senior years, as well as participating in a anti-segregation sit-in at the Wilmington theatre. 
Early Political Career
On August 27, 1966, Biden, while still a law student, married Hunter. He had overcome her parents' initial reluctance for her to be dating a Roman Catholic, and the ceremony, which many people attended, was held in a Catholic church in Skaneateles. They had three children, Joseph R. "Beau" Biden III (born 1969), Robert Hunter (born 1970), and Naomi Christina (born 1971).
During 1968, Biden clerked for six months at a Wilmington law firm headed by prominent local Republican William Prickett and, as he later said, "thought of myself as a Republican". He disliked the conservative racial politics of incumbent Democratic Governor of Delaware Charles L. Terry and supported a more liberal Republican, Russell W. Peterson, who defeated Terry in 1968. The local Republicans tried to recruit Biden, but he resisted on account of his distaste for Republican presidential candidate Richard M. Nixon, and registered as an Independent instead.
In 1969, Biden resumed practising law in Wilmington, first as a public defender and then at a firm headed by Sid Balick, a locally active Democrat. Balick named Biden to the Democratic Forum, a group trying to reform and revitalize the state party, and Biden switched his registration to Democratic. Biden also started his own firm, Biden and Walsh. Corporate law, however, did not appeal to him and criminal law did not pay well. He supplemented his income by managing properties. Later in 1969, Biden ran as a Democrat for the New Castle County Council on a liberal platform that included support for public housing in the suburban area.
He won by a solid, two-thousand vote margin in the usually Republican district and in a bad year for Democrats in the state. Even before taking his seat, he was already talking about running for the U.S. Senate in a couple of years. Biden served on the County Council from 1970 to 1972 while continuing his private law practice. Among issues he addressed on the council was his opposition to large highway projects that might disrupt Wilmington neighbourhoods, including those related to Interstate 95.
United States Senator 
Biden's entry into the 1972 U.S. Senate election in Delaware presented a unique circumstance. Long-time Delaware political figure and Republican incumbent Senator J. Caleb Boggs was considering retirement, which would likely have left U.S. Representative Pete du Pont and Wilmington Mayor Harry G. Haskell, Jr. in a divisive primary fight. To avoid that, U.S. President Richard M. Nixon helped convince Boggs to run again with full party support. No other Democrat wanted to run against Boggs. Biden's campaign had virtually no money and was given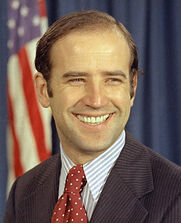 no chance of winning. It was managed by his sister Valerie Biden Owens (who would go on to manage his future campaigns as well) and staffed by other members of his family, and relied upon handed-out newsprint position papers and meeting voters face-to-face; the small size of the state and lack of a major media market made the approach feasible. Biden did receive some assistance from the AFL-CIO and Democratic pollster Patrick Caddell.
Biden's campaign issues focused on withdrawal from Vietnam, the environment, civil rights, mass transit, more equitable taxation, health care, the public's dissatisfaction with politics-as-usual, and "change". During the summer, Biden trailed by almost 30 percentage points, but his energy level, his attractive young family, and his ability to connect with voters' emotions gave the surging Biden an advantage over the ready-to-retire Boggs. Biden won the November 7, 1972, election in an upset by a margin of 3,162 votes.
On December 18, 1972, a few weeks after the election, Biden's wife and one-year-old daughter were killed in an automobile accident while Christmas shopping in Hockessin, Delaware. Neilia Biden's station wagon was hit by a tractor-trailer as she pulled out from an intersection; the truck driver was cleared of any wrongdoing. Biden's sons Beau and Hunter survived it and were taken to the hospital in fair condition, Beau with a broken leg and other wounds, Hunter with a minor skull fracture and other head injuries. Doctors soon said both would make full recoveries. Biden considered resigning to care for them, but was persuaded not to by Senate Majority Leader Mike Mansfield.