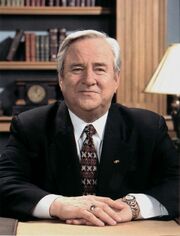 Jerry Lamon Falwell, Sr.,
born on August 11, 1933, was a Southern Baptist pastor, a televangelist and a political activist before Doomsday; post-Doomsday, he was known best as a civic, political and religious leader in the Lynchburg area.
Pre-Doomsday, Falwell was the founding pastor of Thomas Road Baptist Church in Lynchburg, and also founded Lynchburg Baptist College (which became Liberty University in 1971) and Lynchburg Baptist School. Falwell was best known as the co-founder of the Moral Majority, a political organization with an emphasis on lobbying for issues of interest and importance to American evangelical Christians.
After Doomsday, he helped organize survival efforts in Lynchburg, utilizing the resources of his church and Liberty University. Falwell parlayed his influence into becoming the town mayor in 1985. His notoriety was at first more of a negative when Lynchburg made contact with other surviving towns in the state (most notably Roanoke, Blacksburg and Charlottesville), but the respect the now-mainly rural populace had for him allowed him to overcome his notoriety, and help unify the towns into a provisional state government in 1987. His gubernatorial duties were largely ceremonial, however, as the towns had much more authority over themselves than the provisional Virginia government had.
After the Virginian Republic military rolled into the region in 1997, the Lynchburg militia and police took up arms to defend the governor and the town, but were soundly losing the battle (and the town) before Falwell called for a ceasefire. Falwell was placed under arrest, but allowed to move freely around town given his efforts to end the "Lynchburg uprising". A month passed before couriers sent to Charleston returned with a message from President-General James Thompson himself. As a result, Falwell was displaced as governor, but given a "generous pardon" by the President-General himself. Falwell and his family were personally invited to visit Charleston, one they accepted (the Virginian tanks and guns notwithstanding).
While the military in Lynchburg was working with local officials to establish Virginian control there, other units were doing the same in the other cities of the provisional Virginia state government. The military went town-to-town and used a variety of methods to sway the populace into willingly giving up its self-governance to join the republic. In reality, most people believed that the newly-discovered government, even if it was more militaristic than they were used to, offered more long-term stability than the local governments they had dealt with since Doomsday.
A persistent urban legend is that the 101st Airborne was able to sway the entire town, including Falwell, simply by quoting random verses from the Bible. In a 2001 press interview set up by the Virginian military, Falwell said this was not at all true. After the ceasefire, the Virginian military commander did quote verses to Falwell he had memorized from a tract from his former church he had kept with him since Doomsday. "That didn't sway me at all," Falwell said. "If these were the Soviets, we would have fought to our deaths. These were fellow Americans, or what we thought were fellow Americans. We didn't know, but I did know the Lord moved me to end that battle. Thank God the Virginian military listened to me."
Falwell attempted to gain influence within the Virginian Republic's government (as he did in Washington, D.C. pre-Doomsday). He was politely but firmly rebuffed by Thompson. After coming to an understanding that Charleston was a different political animal than Washington was, and satisfied that Thompson and the militiaristic government largely sympathized with his moral beliefs and were willing to allow "generous" freedom for Christians in their new country, Falwell returned to Lynchburg. He resumed his duties as pastor of Thomas Road Baptist Church and president of Liberty University.

Falwell passed away on May 15, 2007 and was buried with military honors on the Liberty campus. His son, Jonathan, succeeded him as pastor of the church and president of the university.
Ad blocker interference detected!
Wikia is a free-to-use site that makes money from advertising. We have a modified experience for viewers using ad blockers

Wikia is not accessible if you've made further modifications. Remove the custom ad blocker rule(s) and the page will load as expected.