The Rt Hon. Jeffrey Gibb Kennett (b. 2 March 1948) was the President-General of Australia.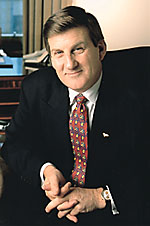 Kennett became President-General in May 2002 after his Liberal Unity Party defeated incumbent Gareth Evans of the Socialist Party. He had been leader of his party since 1994, replacing Alan Cadman, and had already lost one election as leader.
The Kennett government has been plagued by scandals. In 2005, fully half of the cabinet were dismissed following allegations of bribery. A new opinion poll released in March 2006 showed Kennett trailing the Opposition Leader, fellow Victorian Julia Gillard, as preferred President-General 43%-37% He was defeated in the 2007 election by Julia Gillard.
Ad blocker interference detected!
Wikia is a free-to-use site that makes money from advertising. We have a modified experience for viewers using ad blockers

Wikia is not accessible if you've made further modifications. Remove the custom ad blocker rule(s) and the page will load as expected.