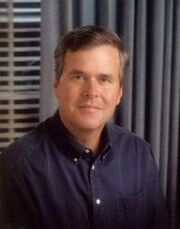 Jeb (John Ellis) Bush is a former Prime Minister of the Kingdom of Florida.
Bush was born on 11 February 1953 in Midland, Republic of Texas, the son of former US President George Bush and his wife Barbara, née Pierce, and thus a brother of the former President of Texas, George Bush.
Bush belongs to the Constitutional-Monarchic Party of Florida, and was appointed Prime Minister on 5 January 1999, succeeding Buddy MacKay. He left office on 2 January 2007, succeeded by Charlie Christ.
Upon leaving office Bush was created Viscount of Tallahassee and given the Order of the Lion of Florida.